Nature is Art contest winners
Put on by the Friends of Cedar Bay, people were encouraged to express their artistic side and submit art in multiple forms for the Nature is Art contest held during this year's Blueberry Festival.

Acrylics category
Tied for 1st Place: Morning Glory - Kayla Bonello, Grouse in Flight- Marie Eliuk
2nd place - Bumble Bees and Cornflowers - Twylla Penner

Nature and her Spirit category:
1st - Rose (Shirley-ann) Roulette: This work depicts the healing journey with the woman in the cocoon about to become a butterfly. Purple is the colour of healing.
2nd - Chelsea Greig: Painting of five northern communities' logos on paddles.

Youth Discovering Nature category - painting:
1st - A Happy Axiolite _ Maelle Penner
Most Colourful - Maple Woodrow
Budding Pony - Autumn Rosengren (age 6)
Most promising young artist - Sawyer Rosengren (age 4)
Youth Discovering Nature category (13 and under) Photography and Sculptures:
1st Prize Colton Gould-Young (age 9) - flowers in their bowls in the garden
2nd Prize Ellie Sayers (age 7) - Sculpted Bert hiding in the plants
Hana Beitl was the winner of the Protecting Nature category with a sculptor made from organic materials in the natural environment.

Event spokesperson Bobbi Roberts shared, "This year not only did we accept submissions, but we also held a session at the pavilion for people to come down and create art of all types. Local volunteers and art enthusiasts Piper Jewell and Laine Helbling volunteered to model some neat approaches to art design and made the event fun for children as well."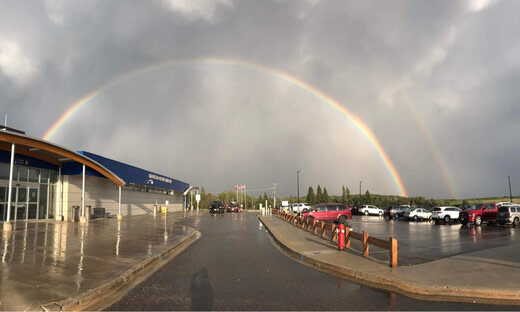 Tuesday, August 30, 2022
The Sioux Lookout Bulletin would like to congratulate the winners of this year's photo contest and thank everyone who submitted entries.