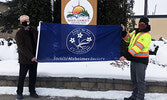 National Alzheimer's Awareness Month in Sioux Lookout
Reeti Meenakshi Rohilla -
Staff Writer
Sioux Lookout Mayor Doug Lawrance proclaimed the month of January as National Alzheimer's Awareness Month in the Municipality of Sioux Lookout last week. The Alzheimer Society flag was raised at the Sioux Lookout Municipal Office.
Lawrance said, "I think it is important that we carry on with our usual proclamations and acknowledgments of things like Alzheimer's and Alzheimer's Awareness Month, even through the restrictions of COVID. Because chronic conditions carry on, it doesn't go down for COVID." He shared in his proclamation that Alzheimer's disease and related dementias are degenerative brain disorders, with about 25,000 new diagnoses each year in Canada. Also further taking a toll on the families and caregivers of the patient.
Lawrance shared in the proclamation that an early diagnosis of dementia helps people live better with dementia and allows them to make important decisions about their future needs. He added, "It is not just their disease-it is ours too."
Lawrance said, "It has already heightened our awareness. Now it's up to us as a society to take that awareness and do something with it. Make sure that we see further weaknesses in our system and address them. Also, we are seeing strengths in our systems…where agencies can work together, where people can work together and we need to bolster those and maintain them. Don't let our guard down when times are easy. That's the time to build up the capacity." He urges all citizens of our community to become more educated and aware of the far-reaching effects of Alzheimer's disease and related dementias.