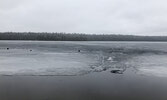 Municipality warns of thin ice, advises public to stay clear
Reeti Meenakshi Rohilla -
Staff Writer
The Municipality of Sioux Lookout is warning the public to stay off area lakes and streams due to extremely thin ice.
Municipal Clerk Brian P. MacKinnon shared that during the spring thaw, ice conditions deteriorate rapidly, especially after rainfall. "The first indication of unsafe ice is the color. Clear blue ice is the safest. White ice is half the strength of blue ice. If the ice looks grey, it is unsafe. This is the ice we're seeing on our waterways right now. The grey color indicates water in the ice," he added.
MacKinnon shared that there have been an increasing number of ice-free patches on the lakes, as well as a multitude of cracks. "The presence of open water along the shoreline is enough to keep most people away, but some may be tempted to walk out in areas where the ice hasn't pulled away yet. This is VERY dangerous right now and is in no way recommended," he added.
MacKinnon advises people to be especially careful with pets that could head out on the ice and fall through a weak spot. He added, "The temperature of the water is still hovering right around the freezing point, and can quickly cause hypothermia. Owners may be tempted to go on the ice to assist, which also puts them in peril. If the ice couldn't hold your dog, it can't hold you! A small child wandering out on thin ice faces the same challenges. If they fall through, so will you!"
The Canadian Red Cross suggests on its website that people call for help (call 911) in the event someone falls through the ice.
The website states that rescuing another person who has gone through the ice can be dangerous, with the safest way being from the shore, while trying to reach the person using a long pole or branch.
Further information on how to self-rescue if you get into trouble on the ice, as well as how to best assist someone who has fallen through the ice, can be found on the Canadian Red Cross website at https://bit.ly/3mEnCdD.
The Municipality encourages people to continue to safely get physical exercise, as permitted under the provincial stay-at-home order, away from water bodies by sticking with people of the same household, and ensuring the use of facemasks and physical distancing when interacting with others.