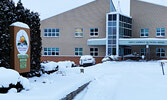 Municipality of Sioux Lookout offering residents new ways to connect
Tim Brody -
Editor
The Municipality of Sioux Lookout is providing residents with new ways to connect to report problems, ask questions, and receive information.
Access to the Municipal Office has been restricted and the Municipality has advised that its staff are working remotely where possible due to current COVID measures in Ontario. "Our doors are locked and phone calls are going directly to voice mail right now," said Municipal Chief Administrative Officer, Michelle Larose. She added, "We have been very busy finding new ways to keep the Municipality's essential services running smoothly and allowing residents to contact us about important issues."
"One of these ways is the new Service Request Form on the Municipality's website. It allows anyone to request service or report issues to any department from their computer, phone, or tablet.
"Accessing the new Service Request Form is easy – either from the Contact Us page or clicking Service Request at the bottom of any page at siouxlookout.ca ," the Municipality shared.
The Municipality of Sioux Lookout has also launched their new Municipal Alert System, which will allow residents to choose to receive notices about Council meetings, Public Works activities, recreation programs and events, service disruptions, general information, and emergency alerts, thanks to Alert Ready integration.
"This lets us get information to everyone who signs up very quickly," said Brian MacKinnon, Manager of Corporate Services & Municipal Clerk. "You can choose text messages, voice calls, email, even push notifications to your phone. The choice is all yours."
Residents can click Municipal Alert System under Your Local Government at siouxlookout.ca to use the service.