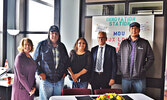 Municipality of Sioux Lookout, Lakehead University sign memorandum of understanding
Jesse Bonello - Staff Writer
The Municipality of Sioux Lookout and Lakehead University solidified their partnership on Sept. 9 in Sioux Lookout, where they came together at the Innovation Station, located at the Heritage Railway Station on Front Street, to sign a memorandum of understanding.
Approximately 25 Lakehead University delegates, Municipality of Sioux Lookout representatives, and Innovation Station partners were in attendance for the signing.
"The Municipality of Sioux Lookout and Lakehead University are signing a Memorandum of Understanding to solidify their partnership through the Innovation Station. The Innovation Station is a knowledge repository and research station that uses a community-based, collaborative approach to infrastructure related challenges faced in the far north. This Memorandum of Understanding will outline the communication, research, and implication framework in which Lakehead University will work with Sioux Lookout in Northern communities and develop these solutions. The solutions will then be kept in the Innovation Station, accessible to all communities who may face the same issues," a media release from the Municipality of Sioux Lookout shared.
"The Innovation Station is located in Sioux Lookout, Ontario, at the Heritage Railway Station in partnership with Lakehead University and the University of Toronto, with the support of the Municipality of Sioux Lookout- Economic Development, the Northwestern Health Unit, Sioux Lookout First Nations Health Authority, and the Sioux Lookout Friendship Accord partners. The goal of the Innovation Station is to identify challenges faced in Northern Ontario and the far north, develop solutions using a community-based, collaborative approach, and retain the solutions in a repository accessible to all communities," the media release continued.
Moira McPherson, President of Lakehead University, and Doug Lawrance, Mayor of Sioux Lookout, along with others in attendance, expressed their excitement during the memorandum of understanding signing.
"It's a great opportunity for everybody. I think it's a great opportunity for them (Lakehead University) to see how many opportunities there are here in Sioux Lookout. It's my hope that as the years go by, which is three years with the option to renew in three years, that over that period of time some of the Innovation Station and associated projects will grow, but they will see the opportunity here to increase their role to provide post-secondary education to people who live in Sioux Lookout and the region," said Lawrance.
"Lakehead University has a long history of working with municipalities, working with community partners and community groups in order to meet the unique challenges of this region… I'm really honoured to be here today to sign this memorandum of understanding with the Municipality of Sioux Lookout," said McPherson.
"It is very exciting because we've seen Sioux Lookout as one of our partners, and the opportunity to formalize it, to build on the successes we've had to date, and look to spur on new initiatives and new projects that are going to be good for the north, good for the region, and bring Lakehead University to being part of that. We're very excited," McPherson added.
"The Innovation Station is a great initiative, and the community needs to be commended for its establishment. It is bold, forward thinking. I'm pleased to see that Sioux Lookout is working with Lakehead University to help with community-driven research projects," said Dr. Andrew Dean, Vice-President of Research and Innovation at Lakehead University.
"I'm really excited because the Municipality of Sioux Lookout is truly a knowledge-based community. It's a leading industry, and it's so nice to be able to embrace that and to see that others want to as well. The other important piece is universities and organizations access funds to do projects in our area, but the projects leave after they're done. They go back to their repository. We're trying to build relationships where that data can be housed in the community, and we're trying to expand on that," said Vicki Blanchard, Economic Development Manager for the Municipality of Sioux Lookout.
From here, Blanchard shared that part of the next step is looking at drones to detect fires, along with ice-build up and floods, in the Far north.
"The next step is we are working very closely with the province on developing a research chair. What that incorporates is taking a project, and taking it into the next steps, and measuring it against a problem or opportunity. We are looking at drones, specifically for around fire detection in the Far north and ice build-up and floods... We have a funding application in for a full-time intern that we're working with the University of Toronto to have someone placed here basically to be a conduit to the universities and colleges," said Blanchard.
Big Rock Technologies LLC is one of the companies that the Municipality of Sioux Lookout is working with for the potential usage of drones.
Their website states, "Big Rock Technologies Inc. is a designer, manufacturer, and reseller of industrial commercial areal utility vehicles (drones). Our primary focus is on production of AUV's for commercial markets. Founded in 2018, we concentrate on services and custom modifications for work and research to respond our customers' needs."
"They're looking at various things with the drones but, for Sioux Lookout, they like this as a testing and development site, so Roger (Rutherford) said there could be, possibly, as many as six employees here within a year with Big Rock Technologies if things go well. They really like the environment here, the location, and the opportunities they see for drone applications, which would be other companies, probably, that would get into the applications. They're mostly interested in developing drone technology," shared Lawrance.
For Big Rock Technologies LLC, their first directive is to see if the drones can handle flying long distances.
"Our first mandate is to prove that the drone can do the longer distances, and that's a challenge in itself over the next six months. We're working on innovative antenna systems and communication systems, and having those function… The second stage after that is to work with some of the service companies to figure out how we can create an application that helps improve and reduce the costs of forest fires and forest fire protection. So, the idea is we can't stop a forest fire, but we might be able to patrol better, and more cost effectively, to detect where those hot-spots are and create a data-based map over years and years and years to isolate specific points, and how they're working, and what those causes are. Whether it's lightning strikes or man-made, that all comes over time, so that will be our second mandate," said Roger Rutherford, President of Big Rock Technologies LLC.
Rutherford shared they're also looking at using that technology for detecting how riverbeds break up in the spring, medical delivery systems, and remote community delivery systems.
"If we can get to a point where we can, realistically, carry 50 pounds over 400, 300, or 200 kilometres, and we can do it for twelve hours, then its way more cost effective then a plane going from one place, to another, to another, and to another. There are so many steps to go," he said.