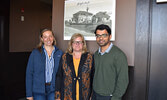 Municipality embracing innovation through pursuit of knowledge-based partnerships
Jesse Bonello - Staff Writer
The Municipality of Sioux Lookout welcomed and hosted representatives from the University of Toronto last week to pursue collaboration for their Innovation Station.
"We hope to have several partnerships in this Innovation Station where we can use peer review and partnerships to not just develop demonstrations and prototypes, but actually move them into real world situations and community," said economic development manager Vicki Blanchard.
"This is an introductory meeting and we're hoping that in the next month or so we will bring representation from the far north to come down and be able to touch on all the areas and let them determine what the priorities would be in the north. Not just for far north First Nations, Sioux Lookout has some of the exact same barriers that the north has; road transportation, issues around power, and so forth. Housing is a huge issue, so we're trying to be very, very innovative," she added.
University of Toronto research associates Sonia Molodecky and Shakya Sur shared that they focus on engineering solutions for the developing world, remote communities, and isolated communities.
"We're from the University of Toronto's Global Centre for Engineering and, what that is, is a centre that focuses on practical engineering solutions for the developing world and for remote and isolated communities that might have challenges with housing, clean drinking water, energy, infrastructure, food security, and things like that… Being able to co-develop with communities practical solutions that are really guided by the way that communities see food security looking, and energy, housing, water, things like that rather than creating complex solutions that might not be effective," Molodecky explained.
One of the initiatives that the University of Toronto's Centre for Global Engineering is actively involved in is the Reconciliation Through Engineering Initiative (RTEI), which is described as, "…A multi-disciplinary initiative taking a community-based collaborative approach to infrastructure-related challenges faced by Indigenous communities across Canada, from accessing clean water, food security, energy, housing, health care, transportation and communication systems."
Along with visiting Sioux Lookout, Molodecky and Sur went to Lac Seul First Nation and Whitefish Bay to look at a number of small businesses and different operations that are currently going on.
"We're very pleasantly surprised with how Sioux Lookout is organized, running, and things are really progressing in a strong way. There are a lot of great people doing some great things here, so we're very excited to be here," said Molodecky.
Blanchard shared that the potential partnership, and Innovation Station, would impact Sioux Lookout along with some of its Friendship Accord partners.
"We work closely with our Friendship Accord partners and those are Slate Falls First Nation, Cat Lake First Nation, Lac Seul First Nation, and KI (Kitchenuhmaykoosib Inninuwug First Nation). The only community engaged at this time in any form of authorization to work together is KI… KI is one of our Friendship Accord partners and has been very active in pursuing this partnership with the University of Toronto, but why they are is because they're the lead on the Regional Distribution Centre and this will really impact them," Blanchard explained.
"We're also working with Lac Seul First Nation, which is another interest of the university, around bioenergy. We have no natural gas, we have no electrical power, hydro power, and we're capped at that so we're looking at different solutions to broadening our ability to access more. We need commercial industrial tax base to take the 84 per cent of the tax base, which is on the shoulders of residents at this time… 40 per cent of all our consumption of hydro is around our water and sewage treatment plants, so that's a big consumer amount when you're limited so, as we can reduce those, we have additional power to attract commercial industrial," she continued.
The Municipality of Sioux Lookout and the University of Toronto haven't come to any official agreement, but Molodecky shared her excitement when asked about the potential that the partnership and Innovation Station could offer.
"From our perspective, this needs to really be a community-driven initiative. We think that there is huge potential to collaborate together with communities and develop solutions that really make sense for communities and, not just from an engineering perspective, but from a traditional knowledge perspective as well. One thing that we would be excited to see here at the Innovation Station is really a marrying together of traditional knowledge systems together with modern technology, science, and engineering that could really create innovative solutions that make sense to communities… We're excited to learn from communities just as much as we're excited to contribute," explained Molodecky.
Blanchard clarified that the Innovation Station is still in beginning stages and that the next step should be bringing in young talent to fill the abundance of professional opportunities available in Sioux Lookout.
"These are early days… We've got a lot of funding still coming down the pipe. We have furniture and systems coming in here where a lot of the sharing is going to start to evolve and youth and students will be able to participate," Blanchard said.
"I think the next step is the focus of we have over 200 professional jobs available in this community, and how better to attract those youth to come to Sioux Lookout but being innovative and having the support of the education institutions to support us in attracting those and, at the same time, developing projects around housing that they maybe can design… Building communities within communities is really the direction I'd like to take in this."
After just a short time in Sioux Lookout, Shakya Sur is confident that it will continue to be easier for Sioux Lookout to attract young talent.
"I think with the diversity of options that Sioux Lookout presents and I think especially what's so unique, and this has really struck me since the time we've spent here, is just how special the hub aspect of Sioux Lookout really is in concrete ways in terms of a melting pot of ideas and opportunities for communities from different places to come and connect with each other. I think, in that respect, it can only be better and it will only continue to grow in terms of attracting young talent," shared Sur.
When asked the opportunities that Sioux Lookout presents for potential partners, Molodecky said Sioux Lookout has the chance to be an example for what can be done in other communities.
"There's so many challenges, absolutely, but, because they're pressing challenges, that is what forces great innovation to happen… The technology now that's growing is advancing leaps and bounds, so there's a huge opportunity to innovate here and leap frog a lot of those technologies and create really sustainable, healthy communities that are far beyond what you see in a lot of other parts in our country just because of the fact that there is a need here and people are coming together to really solve those challenges in sustainable ways. I really do believe that this is a huge opportunity that can be a model for what can be done and what's possible, and I see that others will look at this in the future as a model of something really positive that can be done elsewhere," Molodecky explained.
"We don't want to bring solutions that aren't practical. What we're interested in doing is supporting solutions that can be brought to communities and can be owned, operated, and managed by communities themselves... I think that part of bringing in a practical solution is something that works, that communities want to have, and that will continue to maintain and operate and be able to work with," she continued.
"We know we have several commercial buildings going up. We know that we have housing projects moving forward this year. Things are happening; it just takes a long time. In this case, there will be a large celebration once we get everybody engaged," Blanchard concluded.