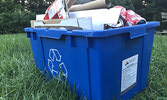 Municipality continues to navigate residential recycling change
Tim Brody - Editor
The demand for 95 gallon blue carts has been greater than expected as change has come to the Municipality of Sioux Lookout's residential blue box recycling materials collection service.
B&M Delivery Services has now officially taken over collection of residential recycling in the Municipality.
As of August 14, the Municipality of Sioux Lookout advised 165 blue carts have been sold.
On August 13, the Municipality advised the carts were currently sold out.
A report will be provided to Municipal Council this week regarding the blue carts.
"Council, since they have directed that the sales of the blue bins and carts be subsidized, will need to determine to what extent," Municipal Clerk Brian MacKinnon shared.
The 18 gallon blue bins were still available for purchase from the Municipal Office as of last Friday and the Municipality said they are, "selling very well."
Residents are being advised that they may continue to use clear or blue plastic bags for their recycling throughout the month of August.
The new collection schedule is now in effect and can be viewed at: https://www.siouxlookout.ca/en/living-here/resources/2020-07-17-Recycling-August-to-December-Schedule-Only.pdf.