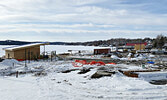 Municipal Waterfront Development Project nearing completion
Tim Brody -
Editor
The Municipality of Sioux Lookout's Waterfront Development Project at Farlinger Park (the town beach) is scheduled to be completed by the end of May and the beach is expected to be open to the public this summer.
Municipal CAO Michelle Larose said completion of the project was delayed due to COVID restrictions as well as a delay in obtaining the manufactured steel for the various buildings due to COVID.
FedNor and the Northern Ontario Heritage Fund Corporation have confirmed project funding extensions to December 31, 2021.
Larose informed, "The project is expected to receive substantial completion by April 5th with the final landscaping to be completed once the snow has melted."
Asked what remains to be done to complete the project, Larose shared, "Most of the work remaining consists of interior building construction; mechanical, electrical and plumbing, interior and exterior finishing. Exterior areas to be completed are the boardwalk benches and railing, bollards, nature and traditional play area structures and landscaping."
"The Municipality would like to thank the community for their patience in finally seeing this project come to fruition," Larose stated, adding, "Our citizens will be very pleased be able to gather and enjoy the newly renovated waterfront for years to come"