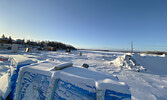 Municipal Waterfront Development Project completion delayed
Tim Brody - Editor
Substantial completion of the Municipality of Sioux Lookout's Waterfront Development Project at Farlinger Park (the town beach) will not take place until February. Final landscaping for the project is to be completed in the spring.
The Municipality shared that, "The project is behind schedule at this point due to a delay on the steel delivery."
Municipal CAO Michelle Larose informed, "To date, we have received approval for an extension on the funding for the project. NOHFC (Northern Ontario Heritage Fund Corporation) is in the process of confirming our request and will be responding in the near future."
The Municipality provided the following summary of the project in their 2021 Operating and Capital Budgets first draft, which was presented to council on Dec. 10, virtually:
"The waterfront development consists of the removal of existing buildings to be replaced by updated facilities to make the waterfront more attractive and enhance the usage by the community and tourists. It consists of the installation of a docking slip system, new play area for kids, enhanced walking paths that are accessible, a band stand, an administration building, kayak kiosk, board walk, new washrooms and enhanced parking area. Water and sewer infrastructure has also been replaced."
The total cost of the project is $3,299,687.
The funding breakdown for the project is: $928,000 to come from the Northern Ontario Heritage Fund Corporation, $928,000 to come from the FedNor, $189,486 to come from the Municipality's utilities reserve, $653,000 to come from long term debt and $601,201 is to be funded from the Municipality's infrastructure reserve and paid back through Municipal Accommodation Tax.