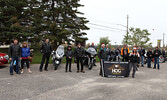 Motorcyclists collect Toys for Tots
Tim Brody -
Editor
The Sioux Lookout HOG (Harley Owners Group) Chapter's annual Toys for Tots event took place last Saturday, with local and area motorcyclists collecting new, unwrapped toys and monetary donations at the Sioux Lookout Travel Information Centre.
This was the club's 17th year running the event, which Chapter Director Rick Jaworski said is the last official club event of the season and a chance to give back to the community.
Donations were given to the Nishnawbe-Gamik Friendship Centre for their Christmas Hamper Program.
Jaworski said anyone who would like to support the Toys for Tots initiative can still do so by contacting the Friendship Centre (807-737-1903) about making a donation.
"Everything is appreciated for the Friendship Centre. They do so many good things. We're just doing our part," he added.
Looking back on this past riding season, Jaworski said, "What a fantastic year it was. Great riding season! Sadly, our last chapter event (of the season) but hopefully a few more weeks of some nice riding. You can't beat the fall colours this year."