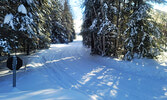 Most area trails benefitting from heavier snowfall this winter
Mike Lawrence -
Staff Writer
With the white stuff piling up, snow lovers are having a winter to remember.
Ron Laverty, President of the Sioux Lookout Nordic Nomads cross-country ski club had this to say about the club's trail system. "The trails are doing really well. This is the most snow we've had in years! All the trails are open and available for use." Laverty went on to remind the public that the ski trails are specifically reserved for skiers, noting, "The trials have been seeing a bit of foot traffic lately, so just a reminder for the public to refrain from walking the trails as it ruins the track for skiers." Laverty also suggested that people interested in checking trail conditions before heading out, or just looking for more information on the ski club, visit the Nordic Nomads Facebook page at https://bit.ly/3tDc0wU.
Another trail popular with snowshoers and fat bike aficionados is the Cedar Bay Trail Co's (CBTC) trail system located at Cedar Bay. CBTC member Ryan Jung shared that as of Jan. 21, "The trails are all groomed with about a two-foot base. We could really use about two weeks without snow, to allow us to get the trails really firm." Jung continued "For snowshoes they're in great shape. For fat bikes they are soft and slow but getting better every day. When they're set up nice and firm, they are going to be smooth and fast."
For those who prefer to get out snowmobiling, the heavy snowfall amounts are just what the doctor ordered. Dean Osmond, President of the Ojibway Power Toboggan Association (OPTA) offered this update on Jan. 21. "Our volunteers are working on our trails almost every day. All trails are currently open except for our Donut Bay Loop, and our A Trail to Ignace."
Osmond continued, "With the amount of snow we have the trails are awesome, thanks to our dedicated volunteers. All open trails have been groomed numerous times. I hope all permit holders are enjoying the trails and consider all the work that goes into making this a successful season." Those seeking more information on the OPTA trail system can visit the group's Facebook page at https://www.facebook.com/optasiouxlookout.
Another area trail that has been generating interest is the skating trail on Pelican Lake. Unfortunately, recent heavy snowfall amounts have made keeping the skate trail clear a bit of a battle. As Tayler Sorensen explained, "Before last Friday I had it shoveled off pretty well. Took five hours of shoveling after each workday and borrowed a snowblower so it was skate-able. However, after we got that snowfall on Saturday and then another good 15 cm after that, so it's going to take a bit of time before it's skateable again. I haven't gone to look to see how filled in it is, but it took a week to clear it last time, so we'll see how much support we get to clear it again" Anyone able to assist with skate trail maintenance is encouraged to grab a shovel or plow and pitch in whenever possible.
As for those looking to stretch their legs and get some fresh air, the Umfreville Trail has you covered as well. As Rony Chakraborty, Recreation and Culture Manager explained, "The Umfreville Trail, which is maintained and operated by the Municipality as a multi-use trail, has been a top priority as we understand how important outdoor participation and activities are in regards to mental health, especially during the pandemic and the associated lockdowns. Even after facing weather extremities, the municipal staff and contractor have been doing a phenomenal job in maintaining the accessibility of the trail."
He added, "We would also like to promote safety, and as such, we strongly request the residents to use the trail keeping in mind weather extremities and personal safety."