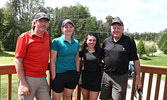 Mixed golf champs
Twenty-two teams competed in this year's Mixed Blueberry Open Golf Tournament.
Held on August 1, the four ball, best ball, nine hole event took place at the Sioux Lookout Golf and Curling Club.
This year's champions were the father and daughter team of, from left: Glen and Jenna Poirier and Blythe and John Bailey.