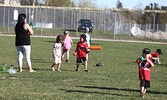 Minor sports season underway
Reeti Meenakshi Rohilla -
Staff Writer
Sioux Lookout's younger residents can return to enjoying outdoor minor sports being offered by the Municipality of Sioux Lookout this summer as a result of easing COVID-19 public health restrictions.
Municipal Clerk Brian P. MacKinnon shared, "Municipal Programs such as the minor league sports are very important for the youth. They not only help to keep children and young adults active and healthy, they also foster friendships. Additionally, participants are taught many life skills through sports, such as time management, teamwork, communication, integrity and commitment. Our programs also help build confidence among those who participate." He added, "The Municipality is offering minor volleyball, soccer, and baseball for summer 2021. All sports are being ran from July 5th until August 19th, with rain dates being held the week of August 23rd."
MacKinnon shared that the Municipality decided to offer minor sports programming this summer after careful consideration. He added that community safety was their first priority, and they patiently waited until it was safe to reopen in-person activities safely.
"We reviewed many factors leading to this decision, and we did consider postponing for another season. Key among the considerations was an evaluation of our ability to be creative in adapting our approach to the programs, in light of the ongoing challenges arising from the COVID-19 pandemic. We are pleased to advise that we have been able to organize and establish new or modified approaches to our minor league programs that will allow the same social experience, while also following the public health guidelines," shared MacKinnon. "We knew we wanted to provide an outlet for children this summer, given everything they have had to endure these past 16 months, but community safety was our main priority. We patiently awaited the Province's "Roadmap to Reopen," and once this information was released, we began preparations," he added.
Minor baseball is being run at the outdoor sports complex from 5:30 p.m. to 6:30 p.m., Mondays through Wednesdays. MacKinnon shared that ages 3-4 and 9-13 play on Mondays, ages 7-8 play on Tuesdays, and ages 5-6 on Wednesdays.
Minor Volleyball is being run Tuesdays and Wednesdays from 5:30 p.m. - 6:30 p.m. at the outdoor sports complex. The age groups are 8-10 (Wednesdays) and 11-14 (Tuesdays).
Minor soccer is conducted at the Sioux Mountain Public School and former Queen Elizabeth District High School soccer fields from 5:30 p.m. -6:30 p.m., Mondays through Thursdays. This sport has four age categories, with participants aged 3-4 playing on Wednesdays, ages 5-6 playing on Tuesdays, ages 7-8 playing on Mondays and Thursdays, and 9-13 year-olds playing on Tuesdays and Thursdays.
MacKinnon shared that as of July 7, there were 115 participants registered across the different minor sports. He encourages anyone interested to sign-up by contacting the Recreation Centre at 737-1994.
MacKinnon shared that these minor sports are made possible by coaches who have graciously donated their time to help the Municipality run the minor leagues. He added, "We are always welcoming of volunteers and coaches. Without volunteers' passion and commitment, outdoor recreational activities like the leagues and other community initiatives would not be as successful, and in some cases, may not even be possible. In regard to interested parties, anyone who wishes to volunteer can call the Recreation Centre to register."