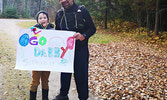 Mike Dubé achieves personal best running in virtual 2020 Manitoba Marathon
Reeti Meenakshi Rohilla - Staff Writer
Sioux Lookout resident Mike Dubé challenged himself to run 50 km as a part of the 2020 Manitoba Marathon, held virtually this year. "I've never been a fast runner but I can run far. During my run, I started to get the idea of trying for the 50 km distance because I've been getting interested in ultramarathons - anything over 42 km, but for most races it's at least 50 km," said Dubé. He completed the distance in 5 hours, 12 minutes and 10 seconds.
Dubé initially planned to start his run near the end of Abram Lake Road, run to Legros Road in Alcona, and then back to his starting point. However, he shared that before heading back, "I diverted and ran into town and then did a little bit of a scenic route until I got to the 50km mark." He said that he had broken his toe in June and was asked by the doctor to not run for two months. "When I got the all clear, I went and started running like crazy," Dubé said. As a child, he once took part in a cross-country run, but it wasn't until later in his life that he developed a passion for running. He mentioned that he had been a part of the Manitoba Marathon, once, back in 2010. "It took a lot of effort to begin running, but after a while, I started to realize that I had an ability to run." He added that there was a consistent pain in his foot. However, he said, "I just sucked up the pain and eventually I kind of put it in the back of my mind and I kept on going."
According to Manitoba Marathon's website, Manitoba Marathon and United Way Winnipeg have partnered to support people with intellectual disabilities. "When you fundraise, you are helping people with intellectual disabilities become more independent and active in our community. Every mile makes an impact on someone's life." The Manitoba Marathon Foundation has been committed to supporting people living with intellectual disabilities for over four decades, raising millions of dollars for the cause.
Dubé said, "Like a lot of running events, a portion of the entry fee goes toward a charity, in this case, United Way. With so many participants, all that money adds up. I'm thrilled that the organizers were able to find a way to ensure the event wasn't cancelled because the money raised does go to such an important cause." This fitness and fundraising event opened a gateway for Dube to start running again. "It's definitely a challenge and there are not too many people who can run that distance. I'm looking forward to seeing what else I can do. I am always trying to challenge myself. I'll see if I can get an online running coach and see what my running potential can be, in term of either increasing my speed when it comes to marathons, or exploring ultramarathons and seeing if I can increase my distance," Dubé concluded.