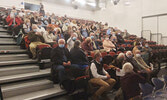 Middle Raged provides laughs as performers tackle ups and downs of middle age
Mike Lawrence -
Staff Writer
The Sioux Hudson Entertainment Series returned November 6 with Middle Raged, a two-person sketch comedy starring Geri Hall (This Hour has 22 Minutes) and Gary Pearson (MadTV, Corner Gas). Things kicked off shortly after 7:30 p.m. in the Sioux North High School cafetorium, and for the next two hours the audience was treated to an evening of fast paced comedy. The show, which consisted of songs and short sketches covering "that time of life when you're running out of time", had the two performers tackle the ups and downs of life at middle age, from empty nest to aging parents, with an eye to the humor to be found in common experience. Several Sioux Lookout couples had the luck of having their "how did you meet" confessions turned into improve sketches, much to the delight of an enthusiastic audience. Judging from the crowd reaction, Hall and Pearson's brand of observational comedy was just what the community was hungering for.
Just under 100 people attended the performance.
The next show in the entertainment series is scheduled for December 1st when Canadian singer / songwriter Chantal Kreviazuk returns to Sioux Lookout. For tickets or more information, visit the Sioux Hudson Entertainment Series website at https://siouxhudsonentertainmentseries.ca/.