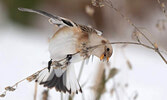 Michael Lawrence marks tenth year of Our Own Backyard: A Sioux Lookout Nature Calendar
Reeti Meenakshi Rohilla - Staff Writer
Local wildlife photographer Michael Lawrence is celebrating his tenth year producing Our Own Backyard: A Sioux Lookout Nature Calendar. Lawrence said, "The sales have been higher each year and I've had a higher print run this year than previous years. Each year, it seems to increase, as more people hear about it." He added, "It's been nice to watch it grow. I do believe this year is going to be my biggest print run so far."
Lawrence moved to Sioux Lookout in 2004 from southwestern Ontario. He said, "One of the first things I wanted to do when I got up here was to get a little digital camera that I could use to capture some of the scenic sites up here that I wanted to show folks back home. That kind of got me started on photography up here." Lawrence said that he finds Sioux Lookout a great place for wildlife photography. "It's been fantastic. There are so many little quite areas you discover. Just locally, without going too far, you can find all these little nooks and crannies of nature that makes it really an ideal place to live if you want to pursue something like this as a hobby."
Lawrence said that, over time, he felt he had enough images that people would be interested in seeing, which motivated him to develop his first calendar in 2009. He shared that he skipped a year of printing. Thus, denoting this year as its tenth year of publication. Lawrence said, "I tend to get a lot more bird photographs than anything else, because there are just so many more around, out in the open. But I try to mix it up a little bit." He added, "I tend to go through and I find a kind of a mix of what people might be interested in seeing."
"Every year I've done the Christmas Crafts show," he shared, "Which is a big event for the area, for people buying stuff and it's always been my prime outlet. It's where I meet most of the people who purchase. So, this year I haven't had as much face-to-face sales. But, the photography part is fairly solitary. So, that hasn't been hit so much in terms of actually going out and getting pictures."
Lawrance shared that he is already almost through his first print run of 120 calendars. "Sales tend to drop off once the New Year actually hits. But as long as people are interested, I'll still have some available."
Calendars can be purchased by contacting Lawrence via Facebook, or emailing him at [email protected].