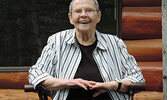 Memories & Celebrations of Life:
Obituary - Patricia (Pat) Edye
June 20, 1925 -
March 16, 2021
It is with great sadness we announce the death of Pat Edye (formerly Oslund) on March 16, 2021. Pat, who lived her almost 96 years without fanfare or fuss, passed away in her hometown of Sioux Lookout. She was born one of six children of early residents Anna Marie Farrell of Wisconsin and Wm. Patrick Edye of Dryden. Pat was predeceased by her parents and her siblings Dorothy, Warren, Gordon, Grace, and Marion, her son Richard, daughter Elizabeth, and the father of her children, Stone Oslund.

Pat will be greatly missed by her surviving daughters Ann (Andrew Dumyn) and Catherine (Sylwester Kiepek); grandchildren, Christine Whyte, Timothy Whyte, Karen Mol, Niki Kiepek, and Eric Kiepek; great grandchildren Britney Mol, Gregory Mol, Owen Kiepek, and Wyatt Kiepek. Pat created a lifetime of treasured moments and memories for them that will endure.
Born in 1925, Pat often reminisced about sitting in school the day the atom was split in 1932; the whistle-stop visit of the King and Queen in 1939; prisoner of war trains passing through town; raising two young girls in the west end before sewer and water extended that far; and learning Swedish cooking from her mother-in-law. She also reflected on women gaining rights to enter local public buildings, join community groups, and study in professions previously restricted to men. With women's voting rights established only seven years before her birth, she strongly advocated for women to exert those rights. Her ideas and beliefs were progressive, keeping up with the times, rather than her age.
As a constant resident of Sioux Lookout Pat's life was enriched by lifelong friendships and close relationships with extended members of the Edye and Oslund families. She had an uncanny ability to remember the birthdate and special events in the lives of all those who were important to her. Pat was proud of her Sioux Lookout roots. To mark her birthday each year she drove past her family home on Ethel Street. She would recall her childhood, remember Sioux Lookout as changed throughout the decades, think of people long gone, and appreciate the life she lived.
Pat and her family greatly value the care she received from the healthcare teams at Extended Care and Meno Ya Win Health Centre, residents and staff of Sioux Towers, merchants in town, and her many friends and extended family members, all whose support allowed her to live an independent and fulsome life almost to the end.
A gravesite memorial will be held later in the year.