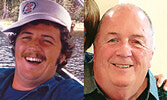 Memories & Celebrations of Life
Obituary -
Ken Wilson
June 15, 1956 -
January 5, 2019
Suddenly and without notice the most wonderful, kind, generous husband, father, son, brother and friend left this earth to travel the next.
Ken was born in Sioux Lookout Ont. and spent his youth there. He loved hunting, fishing, hiking and girls. At 18 Ken began his career with the C.N. as a Brakeman and then took his Engineer training and remained with the C.N. until an ATV Trike accident left him a quadriplegic in 1985.
An entrepreneurial spirit led Ken to many different business ventures and collections over the years.
Ken, his wife Eva and their children Ted and Patricia moved to Brooks AB and called it home from 1990-2005. Ken and his family have many fond memories of their lives in Brooks.
In 2005 Ken and Eva retired to a wonderful neighborhood in the Comox Valley and have enjoyed many years of West Coast Living.
Ken was in a wheelchair for 33 years, but that never stopped him from living life to the fullest. He was always game to do and learn new things.
Everyone he met felt instantly at ease with his outrageous sense of humour, relaxed wit and strong common-sense point of view.
Ken will remain in the hearts of too many people to list here. He always said he was very lucky to have his and Eva's family to help him through his tough times.
Ken was "SuperUncle" to many nieces and nephews and he loved them all.
Flowers gratefully declined. Please make donations to Comox Valley SPCA or The Comox Valley Therapeutic Riding Society.
Ken's family is so very grateful for the kindness, love, and support that they received from everyone at the Comox Valley Regional Hospital.
The generosity of neighborhood friends has also made this very difficult situation a little easier.
Arrangements entrusted to Comox Valley Funeral Home, Cremation and Reception Centre, Courtenay, BC, 250-334-0707.