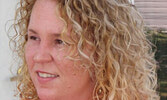 Memories & Celebrations of Life
Obituary - Clover Roy
August 9, 1974 -
January 18, 2019
Clover Roy was born August 9, 1974 in Sioux Lookout, Ontario and passed away, much too early, on January 18, 2019 in Sioux Lookout. In her 44 years, Clover Roy led a life filled with love and passion for her family, friends, dogs, community and herself.
After her childhood in Sioux Lookout, Clover lived in Ottawa, Thunder Bay and Toronto. While living in Thunder Bay and Toronto, she studied as a Child and Youth Worker. While studying in Toronto, she worked part-time in her field. After graduating from Ryerson University in Toronto, she was offered a job working with and supporting youth in Sioux Lookout and made the move back home. She felt satisfaction in using her studies and drive to positively impact many youth.
Shortly after moving back home, Clover met Doug and both felt a strong love for each other. They married on a bright and windy day in September, 2011. Together they went on many adventures and shared love for their dogs, Cassius, Penny and Sophie.
Clover's life changed drastically when she was diagnosed with brain cancer. She fought the disease with inspiring strength for 8 years. It seemed as though it was her mission to beat or surpass any odds or dates given to her! Clover and Doug received much support during her fight against the disease. Many thanks to everyone who supported with their time, food, financial contributions, thoughts, care and love.
We remember her as a daughter, wife, sister, step-mom, aunt, niece, cousin, friend and mentor. We remember Clover's sense of humour, intelligence, strength and determination. We remember her beautiful smile, purposeful stride and head full of curls. We will remember, love and miss her and are thankful to have been a part of her life.
There will be a Celebration of Clover's life on March 2, 2019 at 1:00 p.m. in the Lower Legion at 86 Front Street, Sioux Lookout, Ontario.