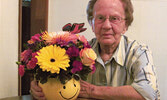 Memories and Celebrations of Life: Obituary
Ann Slobozian
1930 – 2021
Wednesday, August 18, 2021 was a terrible day for the Slobozian family as Ann died suddenly, leaving them in shock and extreme sorrow. The loving mother, wife, grandmother, great-grandmother and friend passed away at the age of 91 years.
She was born in Grandview, Man. and enjoyed the many great activities of farm life. Despite having plenty of chores, she and sister Nellie would often chase groundhogs throughout the fields just for fun. At age sixteen, Ann married Michael Slobozian in 1946 and together they would raise their three children, Shirley, Dennis and Beverly in Hudson, Ont. During their 70+ years of marriage, there would be many challenges. Fun events involved fishing, gardening, playing Bingo, picking berries and mushrooms and visiting relatives. Mom's family and home were always her priority and both received her utmost love and attention. Wonderful home-made meals included soups, cabbage rolls, perogies, pies, cinnamon buns and breads. She fed us very well and generally maintained "balance" within the family in every respect. She also worked briefly as a cook's helper in the kitchen at the Great West Timber camp.
Following their retirement, a relocation to Atikokan, Ont. Started another interesting chapter. Even after Mike's passing in 2017, Ann met all challenges with her usual strength and conviction. Behind her calm, quiet manner was a lot of humour, intelligence and independency. Mom loved nature and looked forward to hearing the robins sing each spring, seeing the deer feed at home in her backyard and watching the lovely clouds move slowly by. Going for car rides throughout the town would also put a smile on her face. She continued to spend time doing word search puzzles, listening to country western music and keeping abreast of current affairs. Ann will be fondly remembered by her daughters Shirley Karas, Beverly Marciniw (Rob), and son Dennis Slobozian. Grandchildren Kristopher, Michael, Quentin, Gavin, Dennis and Carla, as well as her special friends Rose and Rhinaldo Zenn will miss her dearly. In accordance to Ann's wishes, a private interment will be held at Sunset Memorial Gardens.