Memories & Celebrations: Obituary
Paula Perron

March 24, 1972 - February 18, 2023
Today we announce the transitioning of our beloved Paula Perron. On February 18, 2023, Paula passed away peacefully at home with her daughter and family by her side. Paula is survived by her daughter, Savannah McFee, Mother Marlene Perron, and siblings Denise, Dan, Michelle and Nicole. She is predeceased by her ex-husband Leslie McFee and father Wilfrid Perron.

Paula grew up in Sioux Lookout and had a life of exploration. From a young age, Paula had a huge love for animals and had many of her own. Some may remember back to her school days when she had her horse Fancy Count or her goat who may have chewed your shoes if you visited her. Certainly, we know the ducks at 40 Bay Street were the best loved and fed in town. Over the last few years, she formed a wonderful bond with her daughters dog, Prince, who very quickly took to Paula and became hers. She spoke often about how much comfort and joy he brought to her days, and he continued to lay by her side until the very end.

Paula graduated from Queen Elizabeth High school in 1990. During her teenage years and 20's she served her community with enthusiasm. She worked at Sioux Video, Sioux Pharmacy, Anderson's Lodge, the Sunset Inn and after high school she worked for Sioux Travel and then I.N.A.C.

At the age for 23 she became a mother to her daughter Savannah, and they had an inseparable bond. When Savannah was a baby Paula went to train as an Esthetician and then she opened her own busy Day Spa in Sioux Lookout called Naturally U. This was Paula's first business but certainly was not her last. Paula's playful desire to help woman feel and look their radiant best made her happy. This was where her creative design started to shine. Paula deeply valued service to others and eventually had a deep calling to help people spiritually. Stemming from her own questions about life and how to live the best life you can, she learned a life of compassion was the secret. She followed that calling until her last days as a teacher, student and spiritual friend.

Paula used to say she gained strength and humility from being a single parent. After Les passed away, Paula and Savannah moved to Halifax where Paula then stayed for 16 years. She further trained in energy healing called Chaoyi Fanuan Qigong. Paula and Savannah travelled to Malaysia where Paula certified as a Qigong and Meditation teacher. This became her life and hearts work. In her late 30's Paula attended Northumberland Massage Therapy College in Halifax where she found she could combine her eastern and western trainings to help others work with their connection to inner peace.

She opened her dream healing centre in downtown Dartmouth overlooking the harbour where she served for 8 years offering eastern massage, and Qigong and meditation classes and retreats. Paula often travelled to Malaysia for ongoing spiritual healing and quests for truth. She fully embraced and practised on this path for the rest of her life. She loved to share about liberating the mind from unhelpful thoughts and emotions and was well respected for her ability to share what she learned.

In more recent years, she discovered her love for painting. She quickly filled her wall with beautiful art that she so thoughtfully created.

She didn't see death as the end and chose joyful experiences until her final days. She inspired and uplifted many with her trust in life and love. Despite her many passions in life, her greatest love was the love for her daughter.

The family would like to thank local doctors, Dr. Mary England and Dr. Jon Morgan and Pharmacist Bryan Neufeld for their excellent above and beyond care, as well as all the medical staff and Homecare that helped Paula remain comfortable at home. Paula often mentioned how they had big hearts and felt incredibly grateful for the attentive and genuine care that she received.

There will be no funeral as many were blessed to say their goodbyes over the past few years. Paula recommended taking a walk in nature and saying your goodbye there. That was her favourite place. Her ashes will be buried where her father is, at the Sacred Heart cemetery in Sioux Lookout.

Although she has passed, Paula lives on in so much of our hearts.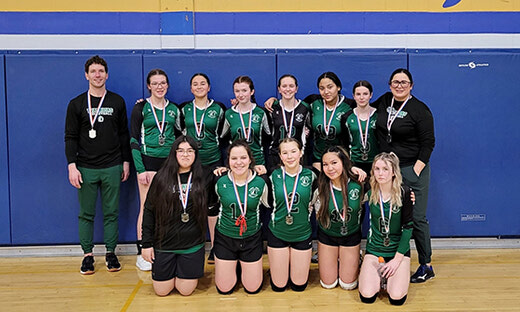 Tuesday, February 28, 2023
The Sioux North High School Warriors junior girls volleyball team are NorWOSSA silver medalists...