Memories & Celebrations: Obituary
KELLY, Dianne (née Nicoll)

June 1, 1932 - May 7, 2023
Dianne Kelly passed on peacefully the evening of May 7th, 2023 at Sudbury Regional Hospital after walking strong and clear with a wonderful sense of humor till the very end. She was a "Great Lady". Dianne was born on June 1, 1932 in what was known as Port Arthur now Thunder Bay and grew up in Sioux Lookout and raised her family in Atikokan, Ontario. She is pre-deceased by her husband Marvin Kelly and her parents William Sharp Nicoll and Daisy Chapman. She is survived by her four daughters and their families: Vicki Kelly; Shaun and Calvin Hains and their family Nicole and Adam; Karen and Don Voaklander and their family, Drew (Remi), Britt and Erika; as well as Lori and Dale Youngman and their family Nathan, Terry, Kimberly (Kevin) and Angela (Landen). Dianne was a Registered Nurse for 37 years who went back to school for her BScN at 50 years of age and with her daughter. Dianne was also further certified in Gerontology and Extended Care Leadership. Her greatest achievement and joy was establishing the first extended care wing in Atikokan, the community she loved so much. Dianne was also an active Lion and strongly believed in community service. She was deeply committed to taking good care of her patients, and nursing colleagues and long after she retired, she was a dedicated palliative care volunteer, for 10 years in Elliot Lake. She was a lover of animals and a great supporter of the Society for Animals in Distress in Elliot Lake.

The family would like to thank the staff and resident "family" at Huron Lodge Elliot Lake for all their care, friendship and for going above and beyond. The family would also like to thank Dianne's circle of dear friends in Elliot Lake, especially the Farquhar Family, as well as her long-time friends in Atikokan, Sioux Lookout and Thunder Bay. There will be a private interment at a later date.
www.cooperativefuneralhome.ca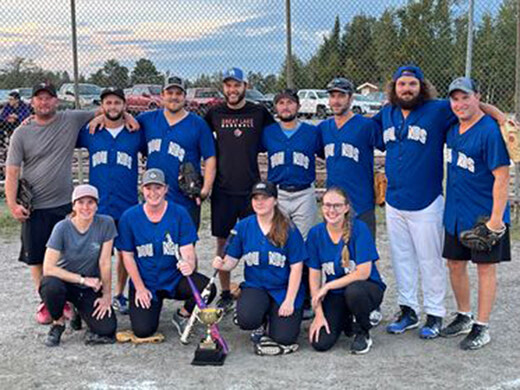 Wednesday, May 17, 2023
Registration is now open for the 2023 Sioux Lookout Mixed Slo-Pitch League...