Memories & Celebrations: Obituary
Glenn Byron Wilson

August 14th, 1928 - July 25th, 2023
Glenn Wilson our father, grandfather and great-grandfather passed away peacefully surrounded by his family on July 25th, 2023. Glenn Byron Wilson was the third child born on August 14th, 1928 in Sioux Lookout, Ontario to Earl and Gretchen Wilson joining his older siblings Ken and Shirley. The depression years were not easy, but in spite of their struggles they had a strong family unit who loved each other very much. In September of 1945 he joined the navy and travelled to places like Bermuda and the Panama Canal. In 1949 he started working for the CN Railway first as a fireman and then became an engineer in 1954. He worked in many places including Biggar, Winnipeg, Churchill, and The Pas, but the majority of his years were spent in Sioux Lookout. He was very proud of his job at the CN. He was the last surviving steam engineer in Sioux Lookout. He brought Engine 3576 on her last journey to Winnipeg. In 1953 he married Georgia Bennett and they had two children – Janet and Kenneth. Life was very active for the Wilsons in those days. Glenn joined the Royal Canadian Legion in 1951 and served in many capacities over the years, including being president and treasurer. In 2002 he was awarded the Meritorious Service Medal for outstanding devotion to the Aims and Objectives of the Royal Canadian Legion. In 1971 he joined the Masons and was a member for over 50 years. He was also a member of St. Andrew's United Church. He was very community minded and was always volunteering for various projects around Sioux. As a child Glenn was involved in many sports, he especially loved playing baseball and was a devout New York Yankees fan. As an adult he played hardball and fastball and later went on to umpire. In the winter he curled and in the summer he golfed. He golfed for many years winning the Club Championship, the Seniors' Championship and the Super Seniors' Championship. He retired in 1984 and he and Georgie spent their winters in Florida from 1984 until 1997. They made lots of friends there and enjoyed their time away from the cold Northern Ontario winters. He and Georgie were able to travel with friends to many places including Portugal, Hawaii, the United Kingdom and Nashville. He loved old country music. In 2003 Glenn travelled to France with his Legion comrades for the opening of the Juno Beach Centre. Once his grandchildren were born he became known as Pa, even by all their friends. He loved spending time with his grandchildren and great grandchildren which involved a lot of teasing. In 1980 they built their first cabin on Sturgeon River and in 2000 moved to a bigger cabin. Lots of family vacations were spent on the lake where many memories were made, including fireworks shows and gigantic bonfires. In 2001 Glenn's wife Georgie passed away and Glenn continued to live in Sioux spending lots of time with his childhood friend Tom Curtis. After Tom's death Glenn moved to Comox, BC in 2012 to be closer to his son Ken and his wife Evie. He enjoyed his time there, but eventually moved to the Newbrook Lodge in Brooks, AB in 2023 to be near his daughter Janet and her husband Duane. Even though he was only in Brooks for a short time he enjoyed it very much. Glenn was the type of person who never complained, he rolled with the punches that life had to offer, and had a great sense of humor. His mind was sharp until the end and even in the hospital he was still telling jokes. Glenn was predeceased by his wife Georgie, son Ken, parents Earl and Gretchen Wilson and brother Ken and his wife Marian and his brother-in-law Archie Stutt. He will be greatly missed by daughter Janet (Duane) Perkins, sister Shirley Stutt, daughter-in-law Evie Wilson, grandchildren Ted Wilson, Patricia (Adam) Saunders, Michelle (Shaun) Veroba and Christopher (Kaydan) Perkins as well as his great grandchildren Arlo and Georgia Veroba and Bowie and Haze Perkins, and the rest of his extended family. A Celebration of Life will be held on Thursday, August 31st, 2023 at the Brooks United Church at 2:00 p.m. (Live Streaming will be available) Burial in Sioux Lookout, Ontario will be held at a later date. If people wish memorial donations can be made to the Royal Canadian Legion Br. 78, Edwin Switzer Memorial, 86 Front Street, Sioux Lookout, Ontario P8T 1A3 or a charity of their choice.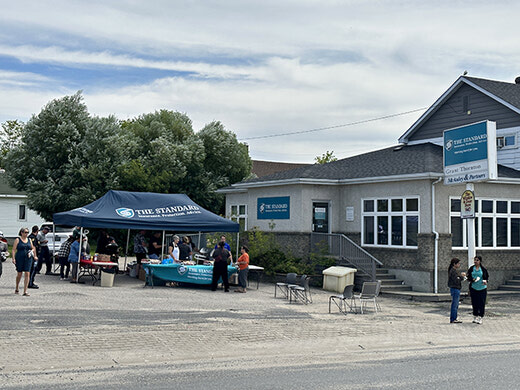 Wednesday, August 2, 2023
The Standard Insurance Brokers Sioux Lookout staff invited community members to join them outside of their 34 Front Street Office on July 27 for a free Customer Appreciation BBQ.