Memories & Celebrations: Obituary
Gertrude Marie Yvonne Archer (nee Lacroix)

March 1, 1943 - April 16, 2023

Gert passed away early on the 16th of April after a courageous battle with cancer. She passed away peacefully and gracefully with family by her side.

Gert was born in Hearst, Ontario, the second youngest of 14 siblings. She is survived by her sister Marianne and brother Camille. She was also pre-deceased by daughter Jennifer, son Michael and granddaughter Danielle.

Her first marriage, to Lucien Payeur, brought her to Sioux Lookout, Ontario, and shortly after she had children - Linda (Shawn McGrath) and Michael. Through her determination and resolve, she learned to speak and read English by listening to the radio and doing crossword puzzles.

Gert later met the love of her life, Don Archer, and they married in 1988. Their marriage reunited her bond with motherhood and raising his four daughters together, Jennifer (Rick McKenzie), Michelle (Andy Schardt), Natalie (Bob Popovic) and Nicole.

The union with Don also lit up the dance floor as they jived and celebrated so many occasions together. Gert had many creative talents including making numerous Halloween costumes, drawing, painting, and sewing,, to name a few, and all with strong sense of style and design. She shared her keen eye for fashion with many while people working at Vivian's Lady's Wear and then at her own boutique, Le Papillion.

Gert, Don and the girls moved to Winnipeg in 1985. There she continued retail work, including working many years at Sears, where she celebrated retirement.

Becoming a grandmother was the next big chapter of her life, and her love and devotion continued to shine brightly. Her first grandchild, Pascal (Ryan Simpson), arrived in 1995, followed in quick succession by Haylei, Marek, Andrew, Danielle, Jacob, Nicholas, Cameron, Cohen and Madison.

Referred to by many of the grand kids as "Momma Dirt", it was only fitting that she was an excellent teacher of how to make any room sparkle top to bottom, in addition to her many other talents. She loved to play cards, and even more, she loved to beat Don. Gert also enjoyed travelling immensely, having her feet in the sand and soaking up the sun, often with her niece Diane.

The family would like to thank the Winnipeg Regional Health Palliative Care Program and Cancer Care Manitoba for their strong support, enabling Gert to stay home until nearly the end of her journey. A special thank you to Dr. McCauley and the nursing staff at the Riverview Health Centre.

Cremation has taken place and a Memorial will be held on July 8, 2023 in Winnipeg, MB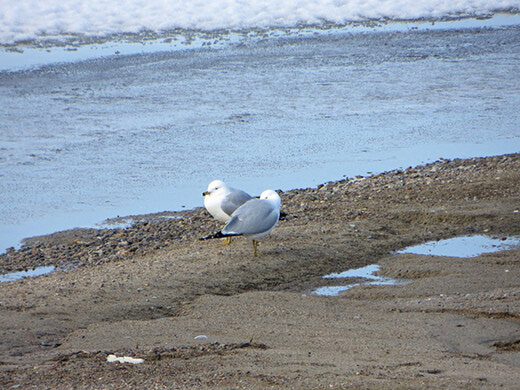 Wednesday, April 26, 2023
Seagulls are seagulls, right? During all the years I've seen them around, I've always thought these birds were just seagulls. But, I have found out they are not...