Memories & Celebrations: Obituary
Doreen Marie Cook (nee Kidd)

June 13th, 1944 - August 6th, 2023
With heartfelt sorrow, the Cook family are saddened to announce the sudden yet peaceful passing of Doreen Marie Cook at the age of 79 on August 6th, 2023, at the William A. George Extended Care in Sioux Lookout, ON.

Doreen is predeceased by her parents Bill and Marie Kidd, and her husband Joe. She will be missed greatly by her loving son, Joey (Tammy), daughters, Anne, and Connie. Grandchildren Brittney (Noah), Nicole (Brent), Silean (Jackson), Hunter, Olivia, Alexander, Myles, Amanda, William & Amy. Great grandchildren, John Bradley, Kash, Lex, Adrianna & Jemei. She is also survived by her friend, Gary, brother Eddie, sisters, Lorraine, Louise, and brother-in-law, Frank, along with numerous nephews, and nieces.

Doreen grew up in Hudson, this is where she met Joe. Grandpa said it was love at first sight with her wearing a mini skirt while Gramma was checking out his car. It was just ticket-y-boo. It was a shock to the family when we found out Gramma & Grandpa were actually married in a church, and it was a beautiful wedding. Grandpa had led everyone to believe that they had had a garage wedding for about 40 years.

Doreen worked as a cook at the MNR Fire Base, Junior Ranger Camp, Camp 19, Pelican Falls School, the Radar Base and Patricia Corners. Gramma decided to trust grandpa's instinct and they began Fred J. Cook Construction. She didn't mind the visits but man oh man, look out if she had a big pour… the grandkids would be kicked out of the office faster than we could walk in.

Doreen and Joe enjoyed camping on weekends at Pepperbell, were snowbirds travelled to Texas, for many years. She had been an avid curler and enjoyed many bonspiels throughout the years. Christmastime was always a favourite pastime; she had a need to have the most decorated yard with so many lights you would see the glow when coming home from town.

Life really began for Doreen when she became a grandmother. There were many camping and fishing trips, shopping trips to the city in her Cadillac, watching the shopping channel and flipping through the Sears book. Sleepovers were the norm on weekends, crawling to sleep in her bed to watched CBC. The grandkids knew that Gramma's was the better dinner option especially when their mom made liver. The grandkids also knew she was very meticulous about her house and knew not to touch the windows. She enjoyed Subway lunch dates with Hunter and Olivia. When she became a great Gramma, she had a newfound love for babies. She happily tried to keep the newest baby in the Extended Care with her and would say they'd find trouble. She enjoyed the little visits and stories with the kids.

Doreen had a tough and fierce exterior and you knew where you stood with her and if you didn't, she would be sure to let you know. This trait has been passed down to her grandchildren. Her personality had sweetened over the last few years. She always had a love for animals and would often feed the birds and squirrels by the big tree in her yard. She had long time animal companions over the years including her dog Muffy, and Midget along with her cats Momma, Kit and Precious. They were just the cat's meow.

A special thank you to Dr. J Morgan and the staff at the William A George Extended Care for taking such amazing care of Gramma. "You are my sunshine, my only sunshine, you make me happy…"

A celebration of life was held at the Sioux Lookout Funeral Home, on Sunday, August 20th starting at 3:00 p.m. In Lieu of flowers, donations may be made to the William George Extended Care through the Sioux Lookout Funeral Home Box 1449 Sioux Lookout, ON P8T 1B9. Online Condolences may be emailed to [email protected]. A reception was held at the Lower Legion. Burial at a later date.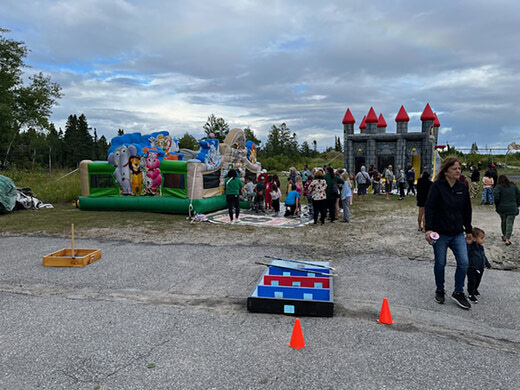 Thursday, August 24, 2023
On August 9 New Life Assembly hosted Carnival Night, a fun filled evening for the whole family...