Memories & Celebrations: Obituary
Charles "Chuck" William Czinkota

July 31, 1938 – September 24, 2022

In loving memory of Charles "Chuck" Czinkota who passed away on September 24, 2022 at the Dryden Regional Health Centre due to heart and kidney failure.

Chuck was born and raised in Sioux Lookout Ontario.

His early years were spent catching minnows and fishing then hunting.

He was employed with the CNR as a "Call Boy", and later Engine Watchman. He then went to Winnipeg to take a barbers course. After he finished, Chuck moved to Dryden and barbered with Rocci Leonzio for many years.

On September 21, 1962, he married Annie Jane Alexander in Sioux Lookout and they moved to Dryden. They bought a little house in north Dryden and Chuck worked at the barbershop. About 1973, Chuck left the barbering business as the mens long hair came into style. He began his career with the LCBO and retired from there on August 1, 1996. He enjoyed his life and work, however his main enjoyment was fishing and hunting and his Lac Seul cabin as well as boats and motors, snow machines, 4 Wheelers and the toys. A special hobby was his garden at home.

Prior to retirement, Chuck and Ann spent many years on cruises in the Caribbean and Barbados, and several years for a Hawaii winter holiday. During retirement, Chuck and Ann spent many great years in Mesa, Arizona during the winter. Chuck enjoyed many years there and had a lot of good friends. His favorite part was "The Carpenters" shop - six days a week - where he made many, many crafty and beautiful things including tables and end tables, clocks, a great variety of bowls all made from special wood from around the world, pens and wine bottle stoppers. He was very proud of his handiwork and skills he learned there.

Chuck will be greatly missed by all who knew him and his good lifelong friends.

Chuck is survived by his loving wife Ann of 60 years, sister Elsie Leonzio, brothers-in-law Sam Alexander, Charles and wife Mary Beth Alexander, and Danny and wife Karen Alexander, sisters-in-law Elsie Realini and Doretta Glessing, as well as aunts, uncles, and about 35 nieces and nephews.

Chuck was predeceased by his mother and father Vince and Annie Czinkota, brothers Garnet and Clarence, sister Evelyn, sisters-in-law Betty Czinkota, Merna Alexander and Ann Alexander, brothers-in-law Tom Curtis, Richard Glessing, Garnet Alexander, Bradley Alexander, and Ray Realini, mother and father-in-law Fred and Olga Alexander and niece Diane Curtis.

A Memorial Service was held at the Dryden Community Funeral Home on Friday, September 30, 2022 at 1 p.m. with Alice Bloomfield officiating.

A Private Interment is to follow.

If friends or family desire, a donation to the Dryden Regional Health Centre - Equipment Fund or Palliative Care Department, P.O. Box 3003, Dryden, ON P8N 2Z6, would be greatly appreciated.

Condolences may be posted at www.dcfh.ca

Arrangements entrusted to the Dryden Community Funeral Home, 249 Grand Trunk Avenue, Dryden, ON P8N 2X3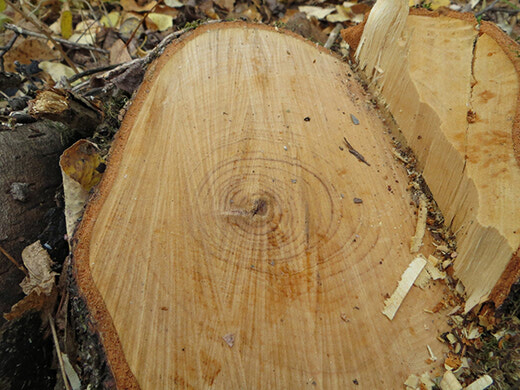 Tuesday, October 11, 2022
During a walk in the woods this frumpy fall day I came across the stump of a 36-year-old birch tree I cut last week while clearing a walking trail/snowmobile route close to camp...