Memories & Celebrations: Obituary
Caroline May Loubier

October 26, 1944 - September 29, 2023
It is with heavy hearts we announce the passing of Caroline Loubier, a beloved wife, mother, grandmother and great gramma, sister, aunty, cousin, and friend.

Caroline's journey on Earth came to an end September 29, 2023 at the Sioux Lookout Meno Ya Win Health Centre, with family at her side.

Born in Thunder Bay, Ontario, October 26th, 1944, Caroline graced the world with her presence, later moving to what would eventually be her forever home and resting place in Sioux Lookout, Ontario with her parents. She was the first of what would be a large family.

She was a women of immense warmth, compassion, and bold spirit. Her unwavering determination, strength, courage, and bold love touched the lives of all who truly knew her.

Caroline's dedication to her family was like no other. As a loving wife, she shared a deep, unbreakable bond with the love of her life, her husband of 37 years, Henry Loubier. Their love was an example of loyalty, commitment, partnership, and trust. Together they built a life and home full of wonderful memories. They overcame every challenge hand in hand.
Caroline's love extended to her daughters Shari-Dawn Loubier, Christy Houle, her grandsons Kyle Loubier, and Steven Berglund. Her great-grandchildren Damian, Ashton, Ariana, Preslee and Grayson. They are and forever will e the jewels in her crown. They will forever miss her hugs and kisses, wisdom, guidance, love, and her fried chicken. She will forever reside in their hearts.

Caroline is also survived by her brothers Carter Rice, sister Sharon (Romeo) Boissonneault and sister-in-law Pam Rice. She also leaves to mourn many nieces, nephews, great nieces, great nephews, cousins, and friends, too many to list but loved just the same.

Caroline was predeceased by her parents Alice and Junior Rice, her little brothers Lawrence, Joseph John, and William George Rice, along with her newborn son Danny Ray who never got to come home.

Mom didn't want a funeral service but a celebration of life will occur at a later date.

We would like to thank the ER Team at Meno Ya Win Health Centre for their care of Mom and family at this most difficult time. Your compassion and care we will never forget. Curtis, Isaac, and the rest of the ER Team, you are all amazing. We can't thank you enough.

We would also like to thank my cousin Lori Boissonneault for being my rock. I love girl. You are amazing. Thank you.

We would also like to thank everyone for their kind words, hugs, food, phone calls, flowers, cards, shoulders to cry on and Kleenex. We feel the love.

Sincerely,
The Loubiers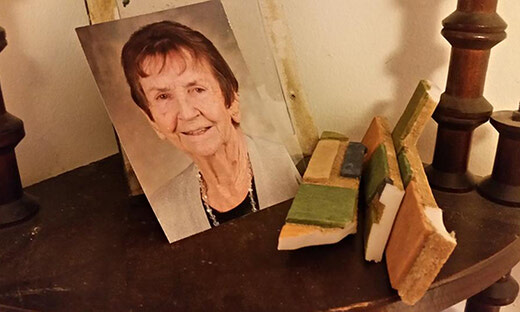 Wednesday, November 15, 2023
My brother Chris and I drank a special toast to Ma.
We were interrupted Thursday night as we relaxed at the patio table in Chris' backyard, enjoying some brotherly reminiscences and good-natured kibitzing after my arrival at his home in Ohio...