Memories & Celebrations: Obituary
Brian Logan
It is with much love that the family announces the passing of Brian Donald Logan, peacefully in his sleep, on January 28, 2023, at the age of 75, in Sioux Lookout, ON.

He will be lovingly remembered by his wife, Marian, his daughters Stacie, Amber (James) and Gerlyn (Joe); his grandchildren Shealyn, Breadan, Nicholas, Noah, Drew and Presley and his great granddaughters Chloie, Natalie, Kamrie and Everleigh. He will also be missed by his brother Jim and his sister Ardis and numerous nieces and nephews. He was predeceased by his mother Grace, father Jim and his Aunt and Uncle, Pansy and William Solomon.

While stationed in Halifax, he met Marian, the love of his life. They were married in 1967 and welcomed their first daughter in 1968. He then moved his family to Sioux Lookout in 1971, after leaving the Navy, and they welcomed twin daughters in 1975.

His interests included fishing and hunting and in later years he enjoyed gardening and became "the thorn among roses" at Sioux Towers where he resided. He also enjoyed reminiscing with his Navy buddies, whether on the phone or on facetime, and his eyes always sparkled when he could share those stories with us. He was so loved and will be truly missed by all.

Brian had many accomplishments; first and foremost being the voice of Santa on the phone, a tradition he truly loved and kept going for many years. He was an active member of the Sioux Lookout Figure Skating Club, and the Sioux Lookout Judo Club when his daughters were young. Most recently Brian was recognized as a lifelong member with 43 years of service with the Sioux Lookout Lions Club.

The family wishes to send a special thank you to the staff at Sioux Towers and to the community, for the tremendous support and love that you have shown the family.

Memorial donations can be made to the Sioux Lookout Lions Club in Brian's name.
"Ya know the thing is…. I did it my way"
Love Brian

The family would like to start by thanking Jordan and the staff at the Sioux Lookout Funeral Home. Your professionalism and compassion made a very difficult time easier. The staff at Sioux Towers, for the daily care, concern, and genuine love you all showed to dad. He really loved living at the Towers. Thank you to the Sioux Lookout OPP for the empathy when you delivered the news and for the continued respect and compassion you showed during that difficult moment. Also, thanks to Polly and Amanda at the Royal Canadian Legion for your excellent customer service and help to set up. We would also like to thank the numerous friends, family and organizations for the beautiful flowers, snacks, meals, baking and continuous support during the last 2 weeks.

Thank you, Melanie Schofield, for driving dad's friends from the Towers so they could be part of the celebration. And Tina Schofield for picking up and delivering food.

Dad was loved by many and will be missed.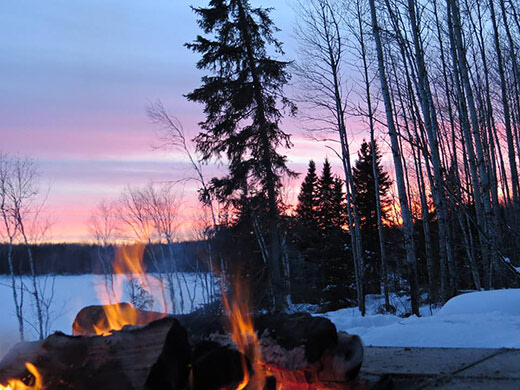 Wednesday, February 15, 2023
Saturday evening at about sunset Mary took a picture from inside the cabin of me sitting beside my fire on the deck of the Palace...