Memoires and Celebrations - Obituary
Billie Bernice Tennant

December 11, 1928 - October 19, 2022
BILLIE BERNICE TENNANT (nee BELL) died serenely, surrounded by her family on October 19, 2022 at the William A. George Extended Care Facility. She was predeceased by her husband James Anton Tennant in 1995. Billie was the youngest and last surviving of nine siblings. She is survived by her three daughters, Frances, Norah (Ron), and Shiela and five grandchildren, Graeme, Laura (Joe), Matthew (Jamie), Micheal (Natalie), and Tanya. She was also the proud great-grandmother of five great-grandchildren, Dominic, Isaac, Malcolm, Paige and Sophie.
Her parents, Minnie Agnes Carson (Bell) and William Edward Bell, originally moved to Sioux Lookout in 1912. Her father operated the first horse drawn delivery service in Sioux Lookout. They moved to Fort William, Ontario where Billie was born in 1928. They moved back to Sioux Lookout in 1937; Billie remained a resident of this community for the remainder or her life. She married her husband in 1952 and they raised their three daughters in their home on Queen Street.

Billie was an active member of the St. Andrew's United Church of Sioux Lookout, singing in a choir that participated in regional competitions. As a member of the Sioux Lookout Choral Society, Billie performed in several musicals including the Mikado, the Merry Widow, and a leading role in H.M.S Pinafore. She worked as an early childhood educator at a local nursery, worked as personal support worker for homecare, and served as a Noble Grand in the Pelican Rebekah Lodge. Billie loved gardening, playing piano, and reading her beloved Canadian authors.

A visitation was held on Friday, October 21, 2022 at the Sioux Lookout Funeral Home followed by a funeral service on Saturday, October 22 at St. Andrew's United Church. Billie's family acknowledges the wonderful care provided by the staff at Sioux Towers, Meno-Ya-Win Health Centre, and the William A. George Extended Care Facility. In lieu of flowers, donations may be made to Sioux Looks Out for Paws Animal Shelter through the Sioux Lookout Funeral Home PO Box 1449, 128 Front Street, Sioux Lookout, Ontario P8T 1B9.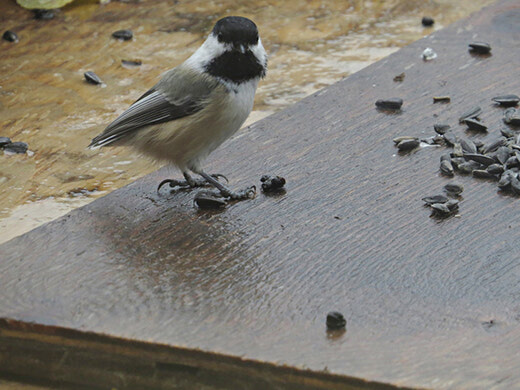 Tuesday, October 25, 2022
Hobo, a chickadee without a tail, has been flitting in and out of my feeder for the past couple days...