Memories & Celebrations: Obituary
Benjamin "Bud" Andrew Edstrom

May 14, 1930 - August 28, 2023

Quietly, Bud passed away at Seven Oaks Hospital in the late evening of August 28th.

He was the deeply loved husband of Beverly; gentle father to Kim; strong, patient grandfather "Poppie" to Benson (Jen), Becky (Dann), Sarah, Ashley (Kirk) and Caitlin (Blair); and protective great-grandfather "Poppi" to nine great-grandchildren. Also left to mourn his passing are Blanche, his sister-in-law; his many nieces and nephews; and his friends-turned-family from Sioux Lookout Joanne, Bruce, Rhiannon, Veronica and Whitney.

He was predeceased by the absolute love of his life, his wife, Beverly a mere three weeks ago. The two of them were a paragon of True Love—they would fall asleep holding hands when there was nothing else to be said. He also lost his son Timothy William; and his siblings-in-law Byron (Eileen), Jackie (David), and Bob.

He was born in Dinsmore, Saskatchewan, but lived in Anerly for most of his childhood on the family farm. After graduation from Newtana High School, he did book-keeping for several businesses. He owned and operated a White Rose gas station in Saskatoon, Saskatchewan, and during his time there he met and married Beverly Snead.

They moved to Winnipeg, Manitoba in 1966 and operated The Avenue Lunch alongside his beloved wife from 1966 until 1977. Then their adventures took him to Hudson, Ontario, where he made lifelong friends while working as a heavy machine operator for the town of Sioux Lookout. After retirement, when not travelling, they could be found in Winnipeg, where they moved to be near family.

A special thank-you to his niece Debbie (Murray), and cousin Irene (Jeff) for all their love, support and help over the last many years. Thank you as well to Dr. Biala and her team as well as the staff and nurses on the 5th floor, Unit 4 at Seven Oaks for their dedication and their kindnesses.

A private family graveside service will be held for both Bev and Bud so they can be together forever.

In lieu of flowers, please consider a donation to the Winnipeg Humane Society, CancerCare Manitoba, or Amyloidosis Foundation of Winnipeg.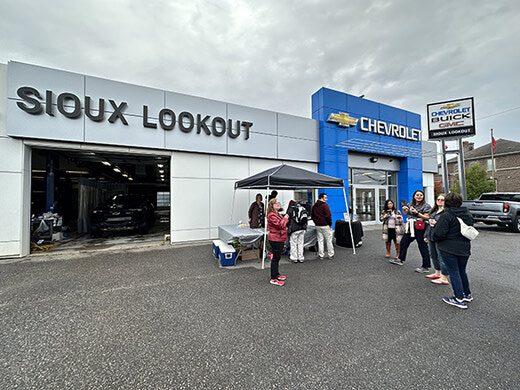 Wednesday, September 20, 2023
Sioux Lookout GM invited community members to visit the dealership on Sept. 14 and Drive For A Cause.
Twenty-seven people took vehicles for a test drive that day, raising $1350 in support of the Friends of Cedar Bay...