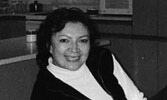 Memories and Celebrations of Life:
Susan Albany
January 1, 1966 - May 17, 2020
In Loving Memory of Susan Albany who passed away peacefully in her sleep on May 17, 2020. She was 54 years old.
Born in Bearskin Lake, on January 1st, 1966, Susan was a compassionate spirit who had passion showing care for others. She sat with many in their grief, offering a hug, a laugh or simply her prayer. Countless people considered her a friend and she thought of many as her family. Although she'd been through more than her share of life's heartache, her faith in God was strong, as was she. Along with her family and friends, Susan cherished her cats, her job and her community. Susan often said not to weep for her but to be happy when God calls her home. May she rest peacefully.
Susan is survived by her spouse of 16 years, Daniel Ray, her sons Stewart Albany, Joshua St. Cyr (Tricia St. Cyr), and Jeremy Albany, her five grandchildren, Donte, Sally, Alex, Isiah and Lena along with many relatives who were near and dear to her. Susan was predeceased by her mother Lucy Albany, her son Christopher St. Cyr and by her beloved parents Fred and Elizabeth Duncan and Robert and Mona St. Cyr.
Cremation has taken place. A celebration of her life will be held at a later date in both Sioux Lookout, Ontario and Big Trout Lake, Ontario. Following the service in Big Trout Lake, Interment will take place.