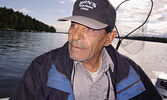 Memories and Celebrations of Life:
Obituary - Ovila Laurent Roussin
October 17, 1934 - September 19, 2020
Ovila Laurent Roussin, 85, passed away peacefully September 19, 2020 with family by his side at the Meno Ya Win Health Centre in Sioux Lookout, Ontario.
Ovila was born in Ste. Rose du Lac, Manitoba on October 17, 1934 to Alexandre and Alexandrine Roussin. His younger years were spent in school and working on the family farm in Ste. Amélie, Manitoba. He later moved to Northwestern Ontario where he and Ramona Botham built their lives together in Hudson, Ontario and raised six children.
Ovila was a proud Metis man who spent his career working off the land in various jobs including forestry contracting and trapping. He was an avid hunter and fisherman who took pride in passing on his trade and skills to anyone willing to learn. He was everyone's favourite backyard mechanic and man of all trades. He always had room at the kitchen table for stories and laughs with friends or bouncing the newest grandbaby on his knee. He enjoyed watching sports of all kinds especially his Montreal Canadiens.
Ovila is survived by his siblings Leopold Roussin (Imelda), Blandine Landry and Napoleon Roussin, his children Robert Botham (Maxine), Colleen Carroll (Bill), Dee Ducharme (Chris), John Botham (Brenda), Lynn Bouchard (Marcel) and Patricia Roussin, 16 grandchildren, 26 great-grandchildren and numerous nieces and nephews.
Ovila was predeceased by his parents and his wife Ramona. A celebration of life will be held at a later date.
If friends so desire, donations can be made to the Meno Ya Win Health Centre-Extended Care Fund through the Sioux Lookout Funeral Home P.O. Box 1449, 128 Front Street, Sioux Lookout Ontario P8T 1B9.