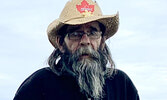 Memories and Celebrations of Life:
Mike Sitar
June 10th 1953 - January 27, 2020
Mike Sitar went to sleep for one last time in the early morning of January 27th, 2020; at the all too early age of 66. He is survived by his world famous father George, trouble making brother Allan, and trying to play innocent sister Marlene. 3 dam cool sons in Matt, Jeromy, and Chad, followed by a litter of grandchildren. Mike was a man of few words but big action. He single handily kept Molson Canadian & Gibson's Rye afloat through ample donations… Always concerned about others more than himself. Dad will be missed, revered, and loved forever. Cancer sucks. Please donate to www.cancer.ca.