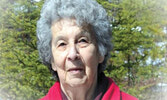 Memories and Celebrations:
Obituary - Mabel Ellen Veres
August 28, 1926 - September 9, 2020
Mabel Ellen Veres (Gramma), age 94 of Sioux Lookout Ontario, passed away peacefully September 9th at the Sioux Lookout hospital.
She was born August 28th 1926 at Allanwater Bridge Ontario.
A resident of Sioux Lookout for over 35 years, she was active in the local Salvation Army Thriftstore, the Legion, the Seniors Centre and the CWL.
Gramma was an avid outdoors person. She was happiest when at the family cottage on Star Island.
She was predeceased by her husband John in 1976, and her son Edward (Eddy Jim) in 2009.
Mabel is survived by her daughter Mary and her son Mike (Wendy), along with numerous grandchildren and great grandchildren.
Cremation has taken place.
A celebration of life will be held in 2021.