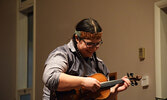 Melody McKiver represents northern Ontario during live stream concert series
Jesse Bonello - Staff Writer
Anishinaabe violist and composer, and Sioux Lookout resident, Melody McKiver was one of ten musicians to perform and represent northern Ontario during the MusicTogether live stream concert series aiming to support Ontario artists.
MusicTogether's website shares, "MusicTogether supports working Ontario musicians during the COVID-19 crisis with direct funding, new opportunities for fan discovery, and eCommerce tools. $300,000 has been committed... MusicTogether is run by volunteers. 100% of our funds go straight to working musicians affected by the COVID-19 crisis."
MusicTogether connected with 15 different music and cultural groups in Ontario, who are responsible for curating a day of music in their areas. Cultural Industries Ontario North (CION) curated the lineup on April 30, where McKiver was among ten musicians representing northern Ontario.
"It was really great. I think, within the context of the music industry, it's definitely often centred on major urban centres, so I appreciate the opportunity to be able to remind listeners that there's creativity that exists all across the province. There's a lot of great talent that sometimes gets overshadowed by what's coming out of big cities," said McKiver (whose pronouns are they/their/theirs).
According to musictogether.ca, artists who are chosen to perform, through an application process, receive $1000 in emergency relief funding along with a live stream show to engage current fans and make new ones.
McKiver said the livestream series is a good opportunity for viewers to hear a diverse lineup while artists get to reach out to a broader, new audience.
"With the move that we're seeing right now towards a lot of online streaming it allows listeners a lot of choice. I encourage everyone to check out other artists as well… It gives people a lot of opportunity and selection to check out new stuff and to figure out what styles might appeal to them. It can be a good chance to reach new audiences right now," they said.
McKiver's first livestream performance was a Canada Performs livestream concert on April 24. The livestream, which was hosted on McKiver's Facebook page, had 2500 views and 100 comments.
"I was also invited by the National Arts Centre to do a Canada Performs concert, so that was my first dry run of it. Currently I've just been trying to maintain interest and advertise for the sponsored live streams I have coming up, but more organizations have been reaching out because I think it is a pretty exciting format at the moment. It's something I can definitely see myself doing in the future… It's something I'm exploring the beginning possibilities of," they explained.
Despite not being able to perform in front of live crowds, McKiver said the live stream format has provided an opportunity to build new skillsets as musicians continue to adjust to performing from home.
"I think it's a really interesting time for musicians. A lot of what I love is that live performance feel, being in a room with a lot of people, and getting that real-time feedback, so artists are facing a learning curve right now trying to adapt to the differences that are happening with online streaming but I think there's a lot of positives as well," they said.
"It's giving me new skillsets to build where I'm always thinking about how do I pace an online set, does it work differently than my performance sets, what are some of the technological barriers I'm encountering, and how can I improve on that for future performances, so it's a pretty interesting time. It's also nice to be working out of your home studio for a change," they added.
McKiver's music is available across all major streaming platforms, and people can stay up to date on future live stream performances
via Facebook.
"Facebook.com/melodymckivermusic is where I'll have my most up-to-date upcoming performances. I'm available on all the major streaming platforms and also melodymckiver.bandcamp.com is available for purchasing my album and I'm also streaming there," they concluded.