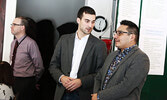 Melillo, Mamakwa advocating for northern Ontario airlines
Tim Brody - Editor
Kenora MP Eric Melillo and Kiiwetinoong MPP Sol Mamakwa are calling for support for northern Ontario airlines.
In a June 23 press release, Kenora MP Eric Melillo shared that he has written to Minister of Transport Marc Garneau about the impact of COVID-19 on remote airlines and the communities they service.
Melillo outlined in his press release that, "Air carriers in northern Ontario are facing financial difficulties due to the dramatic drop in demand for passenger service as a result of COVID-19. Some airlines in the region have temporarily suspended service to certain communities, and many are struggling to meet regional needs."
"The government needs to examine ways they can support these airlines to ensure that they are able to continue to serve their communities," Melillo said, noting that these airlines are "essential for maintaining the supply chain to remote regions of northern Ontario."
Melillo expressed concern that northern Ontario is being "left behind" by the government, "Due to our geography and reliance on tourists, many industries in northern Ontario have been uniquely hard-hit by this pandemic," Melillo concluded. "Without more support from this government, our region at risk of falling through the cracks."
On July 22 in Question Period at Queen's Park, Gilles Bisson, MPP for Timmins asked Transportation Minister Caroline Mulroney why fly-in First Nations communities are less deserving of transportation infrastructure funding.
"Across this province, our government, the government of Ontario, and this Legislature appropriate dollars in order to keep our highways open, in order to run the trains, in order to put the buses on the roads. We don't think twice about it because that's basic transportation infrastructure. But in places in northern Ontario, where you have fly-in communities in the northwest and the northeast, there are no roads. There is no rail. The only connection is by aircraft.
"During this pandemic, revenues are down by 70% for most of the northern airlines. They approached you early on and said, "Will you help us put in place some sort of program so that we can keep our planes in the air and move people and freight in and out of those communities who need it?" They're now announcing and have announced reductions to service. The sad part is, when they did approach you, you asked them to put something together, and then you walked away and said, "Go talk to the feds."
"Why are these people not any more deserving than the rest of Ontarians when it comes to the transportation infrastructure that everybody else gets and deserves?"
Mulroney responded, "First of all, I absolutely reject the premise of this question. Our government has been incredibly supportive of communities and transportation projects in northern Ontario. First of all, with respect to remote airports, we have provided additional funding to remote airports throughout this pandemic. Then, as private carriers were withdrawing from the north, we accelerated plans of the Ontario Northland Transportation Commission to provide intercommunity bus service from Thunder Bay to Winnipeg. Mr. Speaker, this is unprecedented.
"Moreover, Mr. Speaker, we've just recently announced hundreds of millions of dollars of new funding for transportation projects across this province, including in northern Ontario.
"If the member opposite objects so much to the way we treat northern Ontario, then perhaps he would prefer that we did not build those highways and rehabilitate those roads."
Bisson said, "Nobody is against fixing highways or doing what you did with the buses. Those are good things. Nobody argues."
He went on to state, "There are communities that don't have highways and don't have rail. The only connection is by airplane, and they're pulling out. Why? Because they went to your government, asked for assistance, as they did in Nunavut, in the Northwest Territories and in the province of Quebec—where those provinces and territories stepped up, provided a subsidy in order to allow these operators to operate at a break-even point. You have now pulled away and said, "Go talk to the feds. Not my problem; it's theirs."
"Why are Ontarians who live in First Nations communities no less deserving of the attention and the dollars of this government when it comes to providing transportation infrastructure?"
Mulroney replied, "As I said, Mr. Speaker, we have been supporting remote airports since the beginning of our mandate. Most recently, in the middle of this pandemic, we provided $4 million in additional funding for remote airports to deal with exactly the concerns that the member opposite is raising.
"Mr. Speaker, the province funds 100% of the operational costs of our remote airports. We are continuing to do that, and we are working very closely with our partners in First Nations to understand what their transportation challenges are so that we can continue to meet their needs."
Kiiwetinoong MPP Sol Mamakwa said northern airlines came to him at the end of April, in early May and told him they were struggling.
Mamakwa shared, "We wrote letters on behalf of them and the province to this day has not provided them with any support. What happened at that time was instead they passed the buck to the federal government."
"One of the things that's been really clear since I've been here (at Queen's Park) is that they don't understand who we are. They don't understand northern Ontario and some of the issues that we face such as airports, that airports are actually lifelines for our communities for access to healthcare, economic development, education, access to food. These are our lifelines and they don't understand that. When you're in say Thunder Bay or Toronto, they have these provincially funded highways and you can just hop on them, but us, in the far north, airlines are actually essential services and they're not categorized as essential services. They don't understand there is no rail, there is not roads, and that we need airlines," Mamakwa said.
"As I said, we approached the government early on to put in place a program to move people, freight between the communities, especially when communities were starting to put restrictions on travelling in and out of their communities. The PCs (Provincial Conservatives) walked away from the discussions. I think what Gilles Bisson said is pretty much why are fly-in First Nation communities less deserving of transportation infrastructure funding? Just because they live on reserves doesn't mean they should be forgotten," Mamakwa added.
Mamakwa stated, "Instead of answering the question itself they started talking about how they invested in the airports, but that wasn't the question. The question was with respect to the airlines, airlines having some sort of support program for them because that's the work that was being done in Quebec and the provinces over there and the Northwest Territories and Nunavut. They had funding for the northern communities for transportation, why not Ontario?"
Mamakwa said he will continue to advocate on behalf of northern airlines and remote First Nation communities who rely upon them.