Mayor Doug Lawrance, Municipality of Sioux Lookout seeking action on matters such as policing costs at ROMA conference
Tim Brody - Editor
A busy itinerary for Sioux Lookout Mayor Doug Lawrance at this year's Rural Ontario Municipal Association (ROMA) conference in Toronto, which ran from Jan. 22 to 24.
Lawrance, along with Kenora Mayor Andrew Poirier and Pickle Lake Mayor James Dalzell, met with Solicitor General Michael Kerzner on Jan. 23 to address the high cost of policing in their municipalities.
Ten months ago the three communities formed a coalition to address the matter.
"We are cautiously optimistic that Minister Kerzner will be coming to the table with a solution", Lawrance said. "This issue is not about the quality of OPP service, which has been excellent. This is about the financial burden on our local taxpayers which is unsustainable and has been so for many years. Our communities are relatively small, but our police costs are extraordinarily high."
A joint news release from the three coalition municipalities stated that, "Of approximately 330 Ontario municipalities that contract the OPP for police services, Pickle Lake, Sioux Lookout and Kenora are the three highest cost jurisdictions. While the median cost for policing for municipalities is about $300 per property, without discounts, Sioux Lookout, Kenora and Pickle Lake are approximately three times that cost. The primary reason for these high policing costs is that the three communities are regional hubs for healthcare, pharmacy, education, commerce, legal, and transportation services for people living in a geographical area larger than Germany."
"We feel that we've given them more than enough information over the last many years, certainly over this last 10 months as a group, we have met with their staff, handed over information, made them aware of the situation, and it's now their turn to tell what they can do for us," Lawrance said.
"Reducing the cost of policing so that we are in-line with other Ontario municipalities is a top priority for Kenora Council," said Andrew Poirier, Mayor of Kenora in the joint news release. "The current cost formula unfairly penalizes taxpayers for expenses that are out of our control."
Pickle Lake Mayor James Dalzell said in the joint new release, "We need a long-term solution from the provincial government. This is what I am expecting from our meeting with the Solicitor General."
Lawrance said he fears any help will not be put in place soon enough to factor into 2023 Municipal Budget, but he remains hopeful that may not be the case.
The Municipality of Sioux Lookout shared that Lawrance, along with Municipal CAO Michelle Larose, in addition to the delegation with the Solicitor General, will also have delegations with:
Attorney General:
Topics and requests include: seeking update on Sioux Lookout's request for virtual court, as well as seeking an update on Sioux Lookout's request for alternative justice models and a Justice Centre for our community
Ministry of Health and Associate Minister of Mental Health & Addictions:
Topics and requests include: The Municipality is asking what the Province is planning to do to address the shortages, both human and financial resources at the Sioux Lookout Meno Ya Win Health Centre. Secondly, the Municipality is requesting that the Ministries support the current budget submitted to Ontario Health to use the allocated funding for a safe sobering site and addictions treatment/counselling program. In the interim, the Municipality (Community) will develop and present a business case for a facility and program for the provision of Detox/Addictions treatment and continuum of care for Sioux Lookout and the communities that we support.
Ministry of Natural Resources & Forestry:
Topics and requests include: In relation to the recently passed "More Homes Built Faster Act, 2022", the Municipality would like to know the willingness of the Ministry/Province to release crown lands for development. In addition, will the process be expedited to conform to the Planning Act changes put into effect and imposed on municipalities who wish to promote opportunities to provide more development and housing opportunities?
Ministry of Transportation:
Topics and requests include: the Municipality is requesting an update from the Ministry with reference to post flooding plans for upgrades to the Ed Ariano By-Pass to mitigate future closures of the road should flooding reoccur. Secondly, the Municipality is requesting an update of the Ministry's consideration to assume the Road for maintenance and upkeep. Thirdly, now that MTO has assumed the responsibility for Goodie Lake Road up to the intersection of Goodie Lake Road and Frenchman's Head Road, including the Frenchman's Head Road, there is a small portion of Goodie Lake Road (Approx. 2.5 km) that is no longer being plowed and/or maintained. The Municipality has residents that live on Wren Way Road and Bernier Road that have to access that portion of road to get to their properties. The Municipality is requesting that an agreement be entered into between MTO and the Municipality for the maintenance of that section of Goodie Lake road.
"KDSB (Kenora District Services Board) also has delegation meetings with ministers, so with KDSB, as a board director, I will attend Ministry of Municipal Affairs and Housing, Education, Ministry of Health, Ministry of Children, Community and Social Services, and again, the Solicitor General," Lawrance stated.
Lawrance said major conferences such as ROMA are very important for the Municipality to attend, "For delegations to be able to meet with ministers one on one and state your case, and establish a relationship too with the minister and also senior staff with the ministry; you provide good briefing notes, you establish a relationship and then you keep hammering away… There's also a chance to sit down with colleagues from other municipalities and go over common concerns, it's well worth it."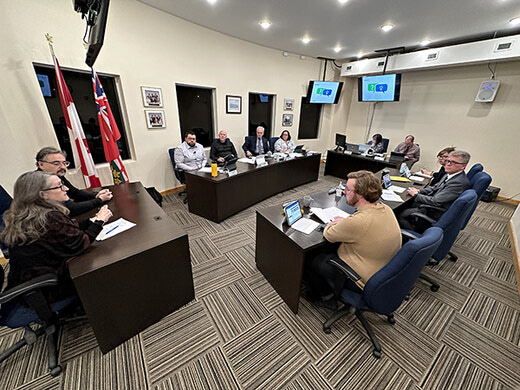 Tuesday, January 24, 2023
Decisions of Municipal Council...