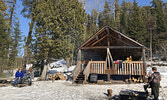 Mark your calendars, final Cozy Cabin Saturday is on March 30
Tim Brody - Editor
The final Cozy Cabin Saturday of the season will be taking place on March 30 and community members are invited out for an end of season celebration!
"We've got free hot dogs, free marshmallows. Just come on out and visit the cabin," shared Friends of Cedar Bay volunteer Nancy McCord, whose family will be running the cabin on Saturday.
"Hot chocolate and tea are always available at the Cozy Cabin," Friends of Cedar Bay member Florence Woolner added.
"Friend of Cedar Bay are able to provide the closing day food thanks to a donation from the Salvation Army to help us support programming for children at Cedar Bay in the winter," Woolner added.
"We've got 10 slides here now, some nice hills, so people will most likely be sliding, I know our kids are into building quinzees at this time of year," McCord said.
"There is a donations jar at the Cozy Cabin and donations are gratefully received to buy supplies, equipment for the cabin, and support school and family outings to the cabin," Woolner stated.
McCord, whose family has opened and closed the cabin several times over the winter, shared, "I found this was one of the better years for turnouts. I think more people are finding out about our secret gem. Lots of families trying to be active. It's wonderful."
Located on the Cedar Bay lakeshore, the Cozy Cabin will be open from 12 pm to 4 pm.