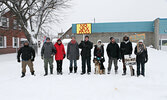 March, rally protests restrictions, COVID-19 proof of vaccination mandates
Tim Brody -
Editor
Local residents who have chosen not to receive a COVID-19 vaccination took part in a rally and march on Jan. 8, marching from the Travel Information Centre to Front Street.
Sioux Lookout resident Bill Bellingham questioned the effectiveness and long-term effects of COVID vaccinations.
He shared that his decision not to get vaccinated resulted in him being put on leave from his job in the aviation industry. The provincial government moving to a modified Step Two of the Roadmap to Reopen, which has included some lockdown measures, led to him being out of work at another job.
"Vaccination should be a choice. We all should be allowed to make it and we should not lose our jobs because of it," he said. "We should not be taken out of society if we do not want to get a vaccine. That's what's happening today and if we don't stand for it now, everyone will experience some form of discrimination eventually. The vaccinated are starting to see that now, double vaccinated – they can't go to the gym, they can't go to the restaurant, they can't do anything even though they're double vaxed. This needs to stop and there's just no other way. We need to stand up and we have to speak out or else we will lose our freedoms forever."
He also expressed his disappointment at comments made by Prime Minister Justin Trudeau last September on French language program La semaine des 4 Julie, where Trudeau said unvaccinated Canadians "don't believe in science" and are often "misogynists"
and "racists".
"His words are not true and they are designed to create hate and to pit the vaccinated against the unvaccinated and that's just wrong," Bellingham said.