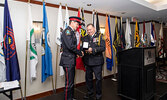 LSPS constable receives commendation for bravery
Mike Lawrence -
Staff Writer
When Constable Robert Lawrance arrived for his shift with Lac Seul Police Service (LSPS) on Nov 1 in 2020, he couldn't have known how his quick thinking and selfless actions that day would impact not just his life but the lives of others in the community as well.
Responding to a call of a crisis situation taking place just outside of the LSPS offices where he was stationed in Frenchman's Head, Constable Lawrance found himself faced with a hostage situation and, for the safety of those involved as well as others in the community, he needed to act quickly. Through his actions, taken at great personal risk, he was able to defuse the situation and arrest a suspect, himself receiving minor injuries in the process.
As a result of those actions, Constable Lawrance was recently formally recognized with the Medal of Bravery at the First Nations Chiefs of Police Association (FNCPA) Awards Banquet held in Niagara Falls on October 27.
Constable Lawrance was presented the award by FNCPA President - Chief Jerel Swamp of the Rama Police Service.
Initially hired by the LSPS in December of 2019, Lawrance completed Ontario Police College in May of 2020 and has been with LSPS since.
Speaking of the nomination, Lawrance said, "It was an honour. I know some advocacy goes in on the part of our service and I'm grateful for the supervisors who put forward my name for nomination. I think there were 80 candidates for the award, and I think 12 were selected." Lawrance then went on to add, "First and foremost, I am grateful to those who supported the application process. Receiving the award made me think of my mentors and co-workers. I feel confident that any one of the officers I work with, or from our neighboring police services, would have taken the same actions I did if put into the same situation. It also makes me think of the victims in these situations who have to carry the memories of a traumatic experience and who may not have the resources to deal with them."
Lac Seul Acting Chief of Police Jason Spooner, who submitted the nomination on Constable Lawrance's behalf, had this to say in regard to Lawrance's commendation. "I am extremely proud of Constable Rob Lawrance who acted in such a brave and selfless way to protect our community, despite a very real risk to his own safety. Each and every day, LSPS officers are committed to serving and protecting our communities."
Lawrance added that he used the trip to receive his award to spend quality time with his family, stating, "I was lucky enough to take one of our children down with me, so we got to go to Niagara Falls for the trip. We stayed by the waterfalls and that just added to the experience."