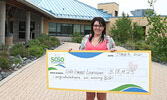 Lori-Lynne Levesque latest big SLMHC Foundation 50/50 Charity Draw winner
Tim Brody -
Editor
Lori-Lynne Levesque of Dryden was the latest big winner in the Sioux Lookout Meno Ya Win Health Centre Foundation's 50/50 Charity Draw.
Levesque, a Dryden GM employee, found out at work she was the winner of the June 11 draw, taking home $18,425.
"I support a few of the local hospitals because it goes to a good cause," she said, adding she planned to put her winnings towards debts and saving some money.
Shane Derusha of Sioux Lookout won the $1000 Early Bird Draw for the July 9 draw.
To date, almost $250,000 has been given out in prizes through the charity draw, with an equal amount having been raised for the Sioux Lookout Meno Ya Win Health Centre.
Foundation Treasurer Rita Demetzer, said she was, "Very, very happy for the support we've been receiving."
"With COVID, we're not able to hold any other fundraisers. We had to pass on the golf tournament (Bearskin Airlines Charity Golf Classic) last year and this year and Skip to Equip last year. We don't know yet whether we will able to do it this year. So this has been extremely helpful," she said.
Demetzer reiterated that the health centre does not receive government funding to cover capital equipment purchases. "The Foundation has to raise money for the hospital to purchase equipment," she said, adding, "We have pledged to purchase already equipment - new lights for the operating room and an ergonomic cycle for cardiac stress testing."
The equipment benefits people in the region by allowing Sioux Lookout Meno Ya Win Health Centre to provide health care closer to home.
The next 50/50 Charity Drew will take place on July 9. People can purchase tickets at www.slmhc.on.ca/foundation.