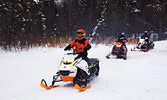 Local snowmobile trails remain closed due to mild early winter temperatures
Reeti Meenakshi Rohilla - Staff Writer
Opening snowmobile trails in and around Sioux Lookout is taking longer this year as members of the Ojibway Power Toboggan Association (OPTA) wait for ice to thicken on area lakes and waterways and for more snow to fall.
OPTA Vice President Andrew Jarmain shared, "The ice thickness for this winter is behind due to the mild temperatures. The club will not be staking the lake until we have verified a safe ice thickness for travel on snowmobiles."
He explained that for snowmobiles the ice must at least be 6 to 10 inches thick. Jarmain shared that ice thickness should always be checked as the conditions can change very quickly. For the club to get their groomers out, they need a minimum thickness of 16 to 18 inches of ice.
Jarmain stated that all trails would remain closed until there is enough of a snow base to begin the packing and grooming process. Anyone interested in purchasing a permit can do so online at the Ontario Federation of Snowmobile Clubs' (OFSC) website at permits.Ofsc.on.ca.
Jarmain said, "This time last year we had begun staking the lakes and had already opened the Town Loop and began grooming trails to Dryden and Ignace shortly after. Again it's hard to say when we will have things ready to open due to weather conditions. The first event that is planned is Snowarama for Easter seals." This event is usually held during the last weekend in January. He added, "Our Poker Derby is planned to be held the first weekend in February. Riders can keep checking our Facebook page (@optasiouxlookout) for updates on upcoming events and keep checking back with the OFSC trail guide online, to check trail conditions and updates on current trail status."
The Ojibway Power Toboggan Association is a volunteer, non-profit organization that has been working to maintain snowmobile trails in the Sioux Lookout area for nearly 60 years, while promoting safe snowmobiling by providing training courses and keeping trails in good condition. The club is always looking for new members and volunteers to join their team. Anyone interested in volunteering may contact the club through their Facebook page or call 807-738-0585 for more information.
Jarmain shared, "For right now, we are concentrating on getting our current trails open as soon as conditions permit. With the cold weather, ice will build fast. Once that is done, getting a lot of snow for a good base is next, but again we can't control Mother Nature." He further mentioned that OPTA is looking to expand their trail network in the near future.