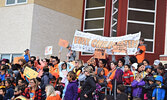 Local schools honouring Orange Shirt Day, National Day for Truth and Reconciliation
Mike Lawrence -
Staff Writer
On Thursday September 30, Sioux Mountain Public School and Sioux North High School students and staff, in partnership with the Nishnawbe-Gamik Friendship Centre, will recognize Orange Shirt Day and The National Day for Truth and Reconciliation. The day will be marked with a sacred fire and outdoor feasting of the Sioux Mountain school drum, Anishnawbe Equay.
Elder Tom Chisel will also be on hand to answer questions and share his story with students and staff. COVID-19 public health restrictions prevent the event from being open to families or the community.
Sharon Dumonski, Indigenous Family Case Worker for Sioux Mountain Public School stated," In-class activities and teachings will take place in the weeks leading up to September 30th and continue throughout the school year. As Legacy schools, we are committed to engaging and connecting our students to reconciliation through education, awareness and action. We are very fortunate and grateful to have dedicated school staff and the support of community partners and the Gord Downie & Chanie Wenjack Fund, working together to ensure that the unique interests, rights and perspectives of indigenous peoples are recognized and implemented in our schools."
Lac Seul First Nation is also planning on hosting a gathering on Sept. 30 in recognition of the Bringing Our Children Home gathering which took place in July. Communications Coordinator for Lac Seul First Nation Savannah McFee stated that "Lac Seul will be honouring the children who never made it home from residential schools. We will also be hearing from residential school survivors and community Elders. Children from all three community schools will be attending by bus, and everyone will march over the Kejick Bay bridge in unison. The Chief will also be speaking at the event." The start time in Kejick Bay is 9:30 a.m.
According to the Municipality of Sioux Lookout, the Municipal Truth and Reconciliation Committee is working with a variety of local businesses, organizations, and agencies to offer a series of events beginning September 23rd and running through October 4th to acknowledge and commemorate the National Day for Truth and Reconciliation, as well as the National Enquiry into Missing and Murdered Indigenous Women and Girls, and, of course, Orange Shirt Day.