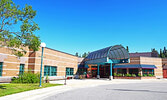 Local resident invites community members to writes letters to isolated seniors
Reeti Meenakshi Rohilla -
Staff Writer
Sioux Lookout resident Judith Boles has undertaken an initiative to write letters and cards to seniors that have been isolated in our community, especially due to COVID-19. She is encouraging community members to join her in this act of good will.
Boles said, "As a community it shows that we are united, that we do care about our vulnerable citizens. We recognize that there are people who might be struggling, especially when we don't know when we are going to get back to normal." She added, "For the elders I think it is valuable to know that they are not forgotten about. I think there are a lot of people within our community right now that are lonely, that would like that kind of contact."
Boles, along with some of her friends, have been writing letters to community seniors and she is hoping to get more people to join. She shared, "So far letters have been delivered and the residents really enjoy the mail. I can't do this alone. It would be nice to know others care about our elders as much as I do, and be willing to take five minutes out of their day to write a card, or a note. My hope is to be buried in letters and cards."
Boles said that she contacted Slate Falls Airways (SFA), who are happy to offer their water base for people to drop off their letters and cards to be delivered to the seniors. Owner of Slate Falls Airways Matt Cairns shared, "I suggested we could set up a box here to collect the letters. She can then coordinate a contactless/safe delivery. I think it's a great way for people to reach out to members of our community who are really isolated in these times."
Boles shared that people writing and delivering letters to nursing homes in southern Ontario inspired her idea. She said, "I thought, why can't we do something like that here?"
Boles said that she will have all the letters and cards delivered outside of the William A. George Extended Care Facility, where they would be taken in and safely distributed by the SLMHC staff. Administrator, William A. George Extended Care Facility, Cynthia Dwyer shared, "At our ECU (Extended Care Unit), we love this initiative. We have received letters already and our residents were very happy to receive them. Thank you to those who have written letters and taken the time to check in with our residents and those awaiting long-term care at the hospital."
Dwyer shared, "To ensure well-being of our residents, our staff sort and process the letters to ensure they are suitable for the individual resident. Then our staff distribute to residents who don't get a lot of mail and would appreciate the kind words. We also work with the interpreter to read letters to residents who have difficulty reading or need assistance."
Boles shared that all letters will be sent anonymously and will be quarantined for about a week before being delivered to seniors.
She is also offering people who may prefer email, to write to her at [email protected]. Boles would then copy their message on to a card that would be delivered to the ECU.
Boles said that she would also love to write to, and help connect people to elders who may be isolated in a different community, and asks people to email her about any such seniors.