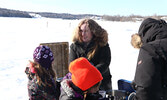 Local resident aspires for a waste-free community through the recycling of cigarette butts
Reeti Meenakshi Rohilla -
Staff Writer
Sioux Lookout resident Dorothy Broderick is ramping up her efforts to minimize waste and encourage recycling of cigarette butts, while raising funds to give back to the community.
Broderick said, "Cigarette butts are the number one piece of litter on the ground. They are not the largest, but they are the number one." She added, "I'm encouraging people to put a can out on the front steps and put your butts out in it and put a lid on it…or put it out in your ashtrays, put it in a can on your steps, and then bring it to me when it's full, and that way I can send it in for recycling."
In an attempt to keep the community clean, keep cigarette butts out of the bush to help reduce the possibilities of forest fires in an especially dry season, and from consumption by animals, Broderick initiated this pursuit about two years ago. However, following the onset of the pandemic, she halted the collection of cigarette butts to avoid any potential COVID-19 cross contamination in the process. With public health restrictions easing and active cases in the area low, and with the continuing dry weather, Broderick said that she felt now would be a good time to resume collection of cigarette butts to be recycled.
Every year, billions of cigarette butts end up in dumpsters and landfills, or get tossed as litter on shorelines, parks, and sidewalks across the country, states TerraCycle's website, the organization that Broderick connects with, for recycling. The program accepts extinguished cigarettes, cigarette filters, loose tobacco pouches, outer plastic packaging, inner foil packaging, rolling paper, and ash.
"What they do is they take the tobacco and paper, and they compost that, and then they take the plastic from the butts, because the butts contain quite a few plastics, and then send those…for plastic recycling. That way they can just try to get them out of the environment, out of the dump, out of people's parking lots, all those places where they really shouldn't be," said Broderick. "The more that we can get them out of the environment, the better," she added.
Broderick said that TerraCycle also offers a dollar for approximately every pound of cigarette butts collected. She has chosen to donate any proceeds to the municipality for the upkeep of the Umfreville Trail. She added, "It's not a ton of money every year, but every little bit that we can do without opening our pockets, helps."
Municipal Clerk Brian P. MacKinnon shared, "This is a great initiative – it's positive for the environment, it will help enhance the appearance of our community (hopefully by reducing the number of cigarette butts thrown on the ground), and the donation of any proceeds raised towards the Umfreville Trail is very generous, and welcomed by the Municipality." He added, "Given that Council recently approved a grant application to revitalize the Umfreville Trail, and also instructed staff to undertake a community fundraising campaign to help offset the Municipal portion of the costs of the project the timing of Ms. Broderick's announcement is ideal."
Being someone who loves the outdoors, Broderick said that she chose to donate to the Umfreville Trail, motivating others to get out of their homes for some Trail activities. "If we put something like this towards the Umfreville Trail, well then it's less tax money we have to pay to maintain it. And right now, I mean, we're feeling a little pinched, and with the way the things are going at the federal and provincial level, we're going to be feeling a lot more pinch in the next little while because tax money is going to have to go up to pay for all this. So, why not do what we can to save where we can," said Broderick.
Broderick, who is also the owner of Drayton Cash N Carry, is offering discounted reusable smell-proof pocket ashtrays in her store for just $2. She figured that if she could offer a means for people to carry their cigarette butts without stinking up their clothing, most people would be willing to hop on board to join the effort. Broderick also suggested for those who may not wish to purchase the pocket ashtray that they could instead used a coffee cup with a lid or an empty bottle of pop to store their cigarette butts and bring them to her once filled.
Broderick hopes to see as many people join in on this effort as possible. She said, "Cleaning up would be nice, not leaving things lying around would be nice. Being more conscious of where you leave things and what you do would be helpful. If not for the environment, then maybe for your pocketbooks to save a couple of dollars in taxes in the long run."