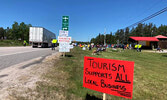 Local lodges, camps voice need for financial support following tourism rally in Vermillion Bay
Jesse Bonello - Staff Writer
Northwestern Ontario tourism outfitters voiced their need for financial support from the government to assist the tourism industry across the region during a Tourism Matters rally in Vermillion Bay on June 13.
The rally, which was attended by approximately 300 people, featured participation from Sioux Lookout lodges and camps, who said it was a good opportunity to voice their needs and concerns.
"I was excited to attend the rally and have the opportunity to get our voices heard," said Sonia Nutt, Director of Nutt's Country Cabins.
"There are not a lot of financial resources for the tourism industry… I was just trying to be heard just like everyone else, hoping that we don't go under," she said.
"I felt the rally was a pretty good success… We have people talking about us, and I felt good about it. There wasn't a lot of media at the rally itself. I felt it would've been nicer to have some media sources there… Outside of that, I think I was pretty happy with how it turned out," said Tena Kartinen, Owner of Ghost River Lodges.
"I think the rally got people talking… I think we need to wait and see what happens with it. I think it's a little soon to say. We have to wait and see if something is going to come of why we stood there and rallied together. They're hearing us, so we just have to wait and see if funding flows down in the form of grants to help some of our tourist outfitters here who are in need of funding from our government," she said.
"I liked the idea of the rally. I think that was good. I think we did get heard, and now we just have to wait and see what they're going to do for us… One of the big things we were saying at the rally is we need grants, not loans," said Linda Rice, Owner of Moosehorn Lodge.
"It was well attended for the most part… It's important to make our voices heard," said Jackie Duhamel, Co-Owner of Anderson's Lodge.
Camps and lodges from Sioux Lookout shared a similar level of disappointment in terms of a lack of support shown at the rally from area leadership, regional politicians, other businesses, and fellow tourist operators in the area.
"I would've liked to see more people. I would've liked to see some support from local mayors, government officials, and news coverage on the rally. This industry supports a lot of businesses, and I don't think a lot of people take into consideration all of the different rivers of revenue that come from the tourism sector… The communication between the government and the industries are not there. Not for the tourism sector, which is frustrating," said Nutt.
"It was disappointing to not see the businesses that we support there to support us. If they were there they weren't recognizable, so that would be the propane suppliers, the fuel suppliers, the food suppliers, the minnow suppliers, and the list goes on… There was disappointment on that end of it. There was disappointment that the mayors weren't present. There was disappointment that the politicians weren't present… There was probably more disappointment about the lack of support from the area outside of the actual tourist camps," said Duhamel.
"It could've been better supported. I know, from our Sioux Lookout tourism operators, there was only three or four of us there, and I know there's about 23 or 24 of us here in our area. I did feel that was a little bit lacking, but I think the turnout was good," said Kartinen.
Kiiwetinoong MPP Sol Mamakwa joined tourism outfitters from across Northwestern Ontario at the rally and posted several pictures of the event on his Facebook page (@solmamakwampp).
In a news release on June 4, Kenora-Rainy River MPP Greg Rickford announced Ontario lodges, camps, and bed and breakfasts could resume operations starting June 5.
"Operators will still need to follow occupational health and safety guidelines and follow the advice of local and provincial public health officials, including any advice, recommendations or instructions on physical distancing, cleaning or disinfecting… This change follows the provincial government's actions to safely reopen businesses and resume activities across the province, including the re-opening of provincial parks for day use, the gradual reintroduction of backcountry camping at provincial parks and the reopening of marinas and golf courses," the news release informed.
"We have heard the concerns of tourism operators in the Northwest and our government has taken action to open more seasonal businesses who can operate in compliance with health and safety guidelines," said Rickford.
Since then, the Government of Ontario has moved forward with a regional approach to Stage 2 and the reopening of the province as of June 12.
"Effective Friday, June 12, 2020 at 12:01 a.m., the province will increase the limit on social gatherings from five to 10 people across the province, regardless of whether a region has moved to Stage 2," a June 8 news release shared.
"Everyone, regardless of where they live in the province, must continue to follow public health advice, including to practise physical distancing, wear a face covering if physical distancing is a challenge, wash hands frequently and thoroughly, and avoid touching your eyes, nose and mouth. The Chief Medical Officer of Health and health experts will continue to closely monitor the evolving situation to advise when public health restrictions can be gradually loosened or if they need to be tightened," the release further stated.
The announcements earlier in the month have allowed local camps and lodges to offer services to Ontario and Canadian residents. Despite the recent changes, ongoing Canada and U.S border closures are continuing to have a huge impact on the local tourism industry.
"The majority of our clientele are from the U.S. Trying to market to locals around, for example, the Sioux Lookout area, it's really hard to market what people have in their own backyard for something that we're trying to service. I know we have some clients out of provinces, and they're a little leery because they hear about the high (COVID-19) numbers in Ontario. People from other parts of Ontario are too afraid to even travel, so there's not much going on for Canadian travelling during this time, so a lot of people are struggling," Nutt explained.
"We don't have any Canadian customers that come. We're remote, not roadside. Everything we have is a planned destination to Ghost River and our advertising dollar is spent in the Midwestern United States, so 99.9 per cent of our customers are U.S customers. It's wonderful that Stage 2 happened and that some of our operators can open, but for us Stage 2 really means nothing," said Kartinen.
"Ninety-nine per cent of our business is U.S. To try and open up for Canadians and trying to fill spots is pretty hard for us," said Rice.
"Going in to Stage 2 is critical in allowing us to open our retail space and be more flexible with our restaurant. It allows us to market Canadian business last minute, but most people are booking a year out... We can offer our packages with boat motor rentals and guide service to Canadian customers,"
said Duhamel.
During his daily briefing regarding pandemic response on June 16, Prime Minister Justin Trudeau announced further extensions to border shutdowns between Canada and the U.S due to COVID-19. The recent extension is in effect until July 21.
"I can now confirm that Canada and the U.S. have agreed to extend current border measures by 30 days until July 21," said Trudeau.
The borders have been closed since March to further control the spread of COVID-19.