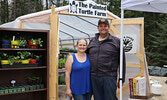 Local family farm offering fresh greenhouse produce to community
Reeti Meenakshi Rohilla -
Staff Writer
A Sioux Lookout family is expanding upon their personal greenhouse gardening this year to share a variety of seedlings with rest of the community. The opening of The Painted Turtle Farm last weekend gained an overwhelming community response, with over 100 avid individuals reaching out virtually and in-person, exploring seedlings for their gardening options.
Kelli George-Egerter, who is running the farm along with her husband BJ Egerter, said, "We created it for sustainability of our food source." She added, "The majority of what we are doing is vegetables, some fruits and herbs, and stuff like that for gardening. Whether that be patios or full-blown gardens in the ground, it's just one less thing that I guess we have to order-in up here, or get shipped in if they are not available locally, which are definitely some challenges. And I think a lot of people around this area can appreciate it."
George-Egerter said that all visitors are required to wear a mask and practice safe distancing, as advised by public health guidelines.
Germinating about 4000 plants this year, the farm's offerings include seedlings for tomatoes, green peppers, peas, zucchini, herbs, and flowers, to name a few. For a full list of available options, or to contact the farm, people can visit their Facebook page at The Painted Turtle, or call (807) 738-0973.
With backgrounds in horticulture and forestry, while the couple had been utilizing their skills for personal use in the past, it was just this year that they decided to expand and open to the community. George-Egerter said that while trying to sell some extra seedlings to friends and family last year, they realized the substantial demand for fresh foods, and a lack of locally grown supply, motivating them to further invest into this idea.
"We looked at it as an opportunity locally, and provide a little more sustainability to the community if it's grown here." George-Egerter added, "So, it's definitely something that we would like to expand upon if it goes well this year."
George-Egerter said, "I had a very small, sort of a personal sized greenhouse last year. And then this year we purchased the frame and ordered in the proper greenhouse tarping, and in early March, we cleared the area and constructed the frame and everything else. That way we got the heater installed and everything, and fortunately, I have a garage space that I was able to convert to a germination room, which is insulated, and we started germinating in there in early March."
George-Egerter said that while Sioux Lookout's winters would demand for improvised tarping and additional layers, their current greenhouse should be functional until around the end of October. "Right now, the one (greenhouse) we have, we have been heating it with propane since March, and thankfully, its been a relatively mild spring," she added.
"We will be open for the public for as long as we have stock left, essentially. At the rate that it is generating interest, I am scared that it won't be very long," said George-Egerter. "I'm hoping to, assuming the next few weeks go well for us this year, and we are able to sell what we have grown, we are hoping to expand and do a larger greenhouse next year," she concluded.