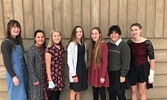 Local Dressember participants raise awareness about human trafficking
Reeti Meenakshi Rohilla - Staff Writer
A group of seven Sioux Lookout teenagers are participating in this year's Dressember campaign, pledging to wear dresses through the month of December, in efforts to raise awareness about human trafficking. Dressember is a nonprofit, collaborative movement that anchors creativity and fashion to rehabilitate dignity to all women and victims of human trafficking.
A participant of Dressember, Kayleigh Bates said, "It's the education aspect. Most people, when they think of human trafficking, they think sex trafficking. But there are also so many other aspects to it. Things like fast fashion for me, I want to be super careful where I get my clothing and where I get my products, because when I think about the people who made them, I want to make sure that they are being paid enough to make these items and that their working conditions are safe. For me, that's why I do it. Not only for the people in sex trafficking, because that's a terrible injustice. But there is so much more, like labor trafficking and even organ harvesting, there are so many aspects to it. For me this month that's what I'm going to be raising awareness of. It's more than just sex trafficking."
According to Dressember's 2019/2020 Impact Report, since 2013, advocates of Dressember have raised over $10 million to fund vital anti-trafficking work worldwide. It further states that Dressember carefully vets their programs every year, across the US and across the world to provide a continuum of care for victims and survivors of trafficking.
According to Dressember's website, it works to maximize the gifts of their donors and advocates, by transforming every dollar into strategic grants toward rescue and recovery programs operated by their grant partners. It further states that their Grant Advisory Committee is made up of survivor leaders and experts in the anti-trafficking field that work in collaboration with over 12 partners worldwide. This committee listens to the needs of survivors and the problems they face before, during, and after being trafficked, and then seeks out organizations that center survivor voices and prioritize their needs accordingly.
A participant of this challenge, Emma Bates said, "Some people think it's an uncomfortable topic. But that's why people don't talk about it and that's why it's happening more. So, if people start talking about it and bring attention to it, hopefully people won't feel so awkward about it."
According to a 2019 statement by the United Nations, "The crime of human trafficking affects women, men, girls and boys in every country and comprises many forms of exploitation including sexual exploitation, forced and bonded labour, and other practices similar to slavery.
A participant of the Dressember campaign, Aubrey Bates said that this challenge is a way for her to give up some of her freedom to recognize the struggles of the victims of human trafficking. "For me, I normally don't wear dresses and so I challenged myself to wear dresses for the month of December. For victims of human trafficking, they don't have a lot of freedom. So wearing a dress is giving up the freedom that I have of wearing pants. So that's a little freedom that I'm giving up compared to people who don't have any freedom." She added, "It's also a statement. I could be outside playing and someone could be like why are you wearing a dress? Then I can explain it to them."
According to Dressember's website, the campaign was founded by Blythe Hill in 2009, when she challenged herself to wear a dress every day of December (hence: Dressember). After hearing about the issue of human trafficking and pondering over it for four years, with a deep sense of urgency to help, Hill used her skills in fashion, trend analysis, and blogging to tell people about her challenge. The website states that every year since then, more people joined in until Hill's one-person challenge blossomed into an international movement to fight human trafficking.
Kayleigh Bates said, "We have a goal, $2000 is what we're trying to raise. If people want to donate, they can go through the link which goes right to our page."
Anyone interested in contributing to the cause may visit https://bit.ly/3mNzHwm.