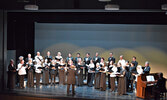 Local choir members join Elmer Iseler Singers on Entertainment Series stage
Jesse Bonello - Staff Writer
Members of various Sioux Lookout church choirs and the Sioux Lookout Community Choir had the opportunity to sing alongside the Elmer Iseler Singers during their Sioux-Hudson Entertainment Series performance on Nov. 8.
Sioux Lookout choir members helped the Elmer Iseler Singers, a 20-voice fully-professional choral ensemble, close out their performance, singing Chorale Prelude on Vulpius (Healey Willan), Ave Verum (Mozart), and Hallelujah Chorus (Handel).
Before joining the Elmer Iseler Singers on stage, the Sioux Lookout choir members joined them for a workshop earlier in the day.
"We did voice exercises, so warmup exercises, and then Lydia (Adams) went through the three pieces that we did all the way through with us, and the members of the Elmer Iseler Singers were there too. We spent almost an hour and a half, it was great," said Bob Johnston, Sioux Lookout resident.
"It was fun. I really enjoyed that," said Johnston.
"It was very fun. It was pretty amazing, and we learned quite a bit from their very experienced director. It was inspiring to sing next to such great singers. We felt supported by the audience," said Ada Wassink, St. Andrew's United Church choir member.
"We're able to offer, many times, workshops for local choirs. It's usually offered when we're on tour, and we love to work with choirs in the area, whether its children's choirs or adult choirs… It's always so nice to work with choirs," said Lydia Adams, Elmer Iseler Singers conductor.
The Elmer Iseler Singers said it's equally as enjoyable and inspiring for them to host the workshops and sing next to local singers that they meet.
"It's a two-way street. It's enriching for us as well as, I hope, for the choirs that we come to, and it's fun to meet new people," said Adams.
"We love doing workshops. They're always so enthusiastic and appreciative. It's really nice to work with different groups, and we've had the chance to work with a lot of kids this tour too. Today's group was really fun," said Anne Bornath, Elmer Iseler Singer.
"It was nice to meet all the singers, and that's probably the best part about this tour. You get to meet singers from all across the country," said Victor Cheng, Elmer Iseler Singer.
The Elmer Iseler Singers last performed in Sioux Lookout a decade ago. They said they always enjoy coming back.
"It's great. We're not here long enough, but we love it. It's such a beautiful place," said Adams.
The Sioux-Hudson Entertainment Series returns in the New Year when the Royal Manitoba Theatre Centre performs on Jan. 30.
To view the entire Entertainment Series line up, as well as ticket prices, go to siouxhudsonentertainmentseries.ca. All shows are 7:30 p.m. at Sioux North High School.