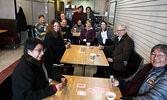 Local agencies working together to support community's homeless
Tim Brody - Editor
Community agencies have come together to provide a warm, safe space for those experiencing homelessness on the streets of Sioux Lookout.
From the concern and compassion of these agencies and individuals, Sioux Lookout's Cold Weather Committee was formed. In late November, the ad hoc committee, made up of representatives from Sioux Lookout OPP, the Municipality of Sioux Lookout, the Kenora District Services Board, First Step Women's Shelter, the Nishnawbe-Gamik Friendship Centre, the Out of the Cold Shelter, Sioux Lookout Chamber of Commerce, Equay-wuk Women's Group, Northwestern Health Unit, Independent First Nations Alliance, Youth Probation Office, Makwa Clan, MPP Sol Mamakwa, Sioux Lookout First Nations Health Authority, and others opened the Cold Weather Drop In Centre on Front Street.
"After many meetings sufficient funding for operations this winter was secured through KDSB. Top up funding was provided by several other agencies," Sioux Lookout Mayor Doug Lawrance explained.
Operating seven days a week from 9 a.m. to 5 p.m., the centre has been providing vulnerable individuals in the community with a space to get out of the cold while downtown, socialize, play cards and board games, connect to Wi-Fi, and have a cup of coffee and a bowl of soup.
The funding and lease for the space are set to expire on March 31st. Funding and a new space are being sought.
In this week's Mayor's Desk, Mayor Doug Lawrance shared, "We have learned a lot since the opening:
The community is generous - there have been many donations through businesses and individuals.
Finding staff has been relatively easy as there are many people who want to do this type of work.
Staff are dedicated, supportive, and compassionate.
There is a great need for this in our community – over 100 unique individuals drop in on a daily basis, many multiple times.
There is food insecurity in our community not only for those suffering through homelessness, but also for those in housing who have insufficient income. (Approximately 300 bowls of soup are served daily.)
The visitors to the Centre are truly appreciative of the facility and services provided.
The Centre has provided a reliable connection point between other service providers and those seeking and requiring services.
The visitors to the Centre each has a unique story, but there are some common themes. Those themes generally come back to a multi-generational legacy from policies and practices related to Indigenous People and First Nations that are now recognized as disastrous.
Location is key for a facility such as this to succeed. It must be near the downtown core otherwise it will have limited use.
The Zoning By-Law in the downtown is quite broad in permitted uses and allows for drop-in centres.
Agencies can come together and do incredibly effective work very quickly. There were many agencies and individuals involved in this. It couldn't have been possible without funding from KDSB. It would not have started without work by the OPP. It would not have happened without the tremendous dedication of the leadership and staff at the First Step Women's Shelter and the Nishnawbe-Gamik Friendship Centre.
"I want to single out Mitch Davis and Andrea DeGagne… it was the OPP who pulled this committee together," Lawrance shared. "The fear was people out in the cold and every winter it was minus 30… I think even the winter before we had long stretches of severe cold, and people have died in and around Sioux Lookout in the winter from exposure and other factors. We just want to give people some dignity and give everybody a place to be comfortable during the day. Our real push has been that we want a new emergency shelter along the lines of the Kenora model, and we're moving towards that and we're hoping to get funding.
"With the backing of the committee, I wrote a letter to KDSB, which said we would like to have some form of interim drop in centre in the downtown by, we were targeting October, and we're hoping for a new, full time, fully resourced shelter by October of 2020."
Tana Troniak, FSWS Executive Director shared that hope stating, "Hopefully by next year there is a new homeless shelter closer to the downtown core."
She said the Drop In Centre has been a community success story, of good things that can happen when the community works together towards a common goal, "We have staff from Out of the Cold, we have staff from the women's shelter, we have staff from the Friendship Centre, everyone is working together. We have great partners, the Municipality, the Chamber of Commerce, the health unit, NGFC, supportive housing, IFNA, women's shelter… It's a really great collaboration."
Jennifer Thomas, Nishnawbe-Gamik Friendship Centre Executive Director agreed stating, "It is a great collaborative approach among many community members… which really shows the strength in our community.
"This is a great opportunity to support some of our vulnerable community members, those who are just passing through and need resources, or information, referrals, and even those who may not have the necessary means for daily meals and things like that to come out and have a bowl of soup, or a tea or coffee, warm up."
Susan Barclay is the Executive Director of Out of the Cold, which operates the community's emergency shelter.
"Many of the users of the shelter don't come back up during the day no matter how cold it is. Downtown is where people tend to congregate and meet their friends and spend their days," she shared.
"I see it as beneficial," she said of the Drop In Centre. "I know people tend to wander in and out of business establishments… We know that people drop into the library, partly to warm up, but partly because they need to connect (with family and friends) and everybody is connected with internet."
Barclay shared that the number of people needing emergency shelter has increased over the past two years.
Asked about establishing a new shelter in the community, Lawrance shared, "The federal government came out with a program, Reaching Home. They put out a call for proposals six or seven months ago. But it was only for cities of 100,000 or more. The district services board, in one of our meetings, it was proposed that we apply as a whole District of Kenora, population 75,000, and given our unique challenges, see if we could get accepted into the proposal call, and we were successful in getting accepted into the proposal call. Of course, as always, there's limited resources and only certain communities will get it. We've made the second cut. I think we're down to 16 proposals and I think they're choosing five… that is for a new, full service emergency centre, which I think will incorporate the drop in centre, the emergency shelter has transitional beds, and a service hub where working from there could be something like the Makwa Clan, it could be the OPP, a mobile team. That would be very valuable and very needed in Sioux Lookout."
Asked how community members could support the proposal Lawrance said, "I think following good news sources like The Bulletin for local information and when you see things that you support, write to your MPP and your MP, and write positively."
He added, "What helps is to offer solutions, when you see good things possible, that they need a push over the edge with political pressure, that' where the everyday citizen can help. Get engaged as many do through their work and through volunteering and doing positive things for the community and everybody who lives here."
Recent Letters to the Editor have cited concerns about the Drop In Centre's location and alleged behaviors / habits of individuals observed downtown.
The Bulletin reached out to the community's mayor on the subject.
"Normally, governments don't respond to, or engage through, Letters to the Editor," Lawrance stated. "Letters to the Editor give individuals an opportunity to express their unique views and opinions. In this case, you are referring to two different letters touching on a common theme, and that theme in my view, is homelessness, mental health and addictions, and the intersection of people living in these situations with mainstream community life.
"Anyone who follows current affairs, and reads or watches legitimate media, will know that this is a national challenge in cities and towns across our country, our province" Lawrance said.
"Sioux Lookout is a relatively small town. Our role as a hub community, the Hub of the North, for a population five times that which lives here brings huge opportunity and vitality to our community. It also brings challenges that are magnified because of that size difference, associated with mental health, addictions, and homelessness. This challenge also presents a unique opportunity to walk the walk of reconciliation, not just talk the talk. I think our community is doing a good job of this. To say that Mayor and Council are doing nothing on this challenge, is uninformed, uncaring. Beyond the municipal actions there has been an enormous amount of work done by many agencies. Recent successes include the 20 unit supportive housing complex, student housing and supports, youth centre initiatives, mental health nurse working with the OPP, the Makwa Clan, and the Cold Weather Drop In Centre. It is our hope that through agencies we are working with, we can soon see a new 24/7 full service emergency shelter, a mobile health and counseling unit, a mental health and addictions centre, a youth addictions centre, more student housing and supports, more supportive housing. Our Community Safety and Wellbeing Plan, which we will be doing over the next six or seven months, I think will provide a venue, and a forum, for much input, from as well as the public, many agencies. In the meantime, we must try and continue positive efforts such as the drop in centre. "
Lawrance stated, "We will continue to live with the challenges. It is my hope that we can do so together, side by side, showing respect to each other and doing whatever we can to create dignity for everyone. This is a complex challenge with no one simple answer. It requires commitment to keep doing good things, both small and big, on an ongoing basis, for a long time to come."
KDSB Chief Administrative Officer Henry Wall, praised the community approach Sioux Lookout has adopted to serve the community's homeless. He also agreed a new shelter is needed in the community.
"In terms of what Sioux Lookout as a community needs, we do need a new shelter. A facility that is accessible, that will allow programing to be on site and support services on site. What we have now has done a good job, it's filled a purpose, however I think we all recognize that as a community we need to do better when it comes to supporting our homeless population, and in particular during the winter months we need to have a place where people can be warm, where they can be supported. Part of that this is a short-term transition plan. We had a unique opportunity in the community set up a working committee that has met for quite a while now to try to really figure out how do we address homelessness, in particular around having a shelter long-term, that can be open around the clock, and then made a request saying we need something during the winter.
"Why this is important is that in 2018, we had over a dozen people that died because they were homeless here in Sioux Lookout. When you factor that in, Sioux Lookout as a community had a death rate of 1.64 people for every thousand… if you had that same rate for Toronto, it would be equivalent to 10,000 people dying on the streets of Toronto every year... it would be a national crisis, and yet here we are in Sioux Lookout, where this is happening all the time. Part of the community's concern and the committee's concern is that we needed something, especially in the winter months, so that we can stop losing people to the elements. We had an opportunity to step in."
Wall said KDSB's goal is not to stop with the funding it provided to operate the Cold Weather Drop In Centre. "Our sleeves are rolled up, we're working with the community and our goal is to have a permanent, accessible, emergency shelter in Sioux Lookout that can have programing on site, it can be open around the clock, so this is where we're working with many stakeholders."
In May of 2019 KDSB signed a Memorandum of Understanding with Nishnawbe-Aski Nation."
"Recognizing that Sioux Lookout alone can't do this. KDSB alone can't do this. Neither can Out of the Cold. We need to be working together and also looking at why is it, why are people experiencing homelessness in the first place? We start to look at that and I think what we're finding is that we actually need to support each other as communities in terms of if people are having to leave their communities because there is no housing in that community, and they go to Sioux Lookout to experience homelessness here, that shouldn't be acceptable. As communities we shouldn't stand for that, not in this country, not in a country with this much wealth that we call Canada. So how do we support each other as communities so that, one, we can have housing built and we can keep people supported where they feel at home, so they don't have to leave their communities, their families, and their support networks to access a shelter somewhere else."
He continued, "Part of what we need in Sioux Lookout isn't just the facility, it's critical to being able to bring programs and service providers together, but also why is it that people are experiencing homelessness and what we're finding is that due to judicial reasons, and due to individuals needing access to medical services, they end up being homeless, very often temporarily, and so we can do a better job as community organizations to ensure that when we have families and individuals coming to Sioux Lookout for medical services, we work together so that individual don't fall between the cracks and end up being stuck on the streets here, or when individuals are being remanded in the far north to serve justice, that we work as communities to ensure that individual is supported, and then connected with the community afterwards and that's not what's happening. Mayor and Council are really pushing hard for Sioux Lookout to get a justice centre as well, knowing that in the name of justice, a lot of people are made to be homeless in this community."
Wall further commented, "The cost for policing and the cost for EMS are rising at an unsustainable rate and communities are starting to feel the financial pressure. Property tax payers here in the community are feeling that pressure. The conversation shouldn't be, well it's those people that are causing our policing costs to be so high, the conversation, (should be) how do we ensure that it's not police who have to act as social workers, it's not paramedics who have to act as social workers, that we actually have programs and services working together to ensure that we aren't setting people up to fail."
"Sioux Lookout has a housing crisis and it's not just impacting homelessness. It's impacting businesses to be able to attract staff, attract talent, and from that too we're working very closely with Mayor and Council and administration to start filling the continuum of housing. We need a shelter because every community has individuals who experience homelessness. It could be as simple as there was a dispute within the family and for the night somebody has to be somewhere else, so we need that, but we also need to be looking at transitional housing," Wall said. "A year ago, in partnership with the Friendship Centre and with the women's shelter, we opened up a 20 unit supportive housing program at the end of King Street. We get quite a bit of criticism. It's seen as we're enabling individuals to be there and also have access to alcohol. They do have access to alcohol. The program is designed for us to be able to meet individuals where they're at, in that this will be their home. We actually have a lease with the individual. Every unit, that is their home and within their confines they should be free, just like you and I in our own homes.
"We have supports on site. That's a key difference. We're working with individuals to work on their addiction, work on whatever barriers might exist that are preventing them from actually being in the labour force. We have some early indicators in terms of what I consider success. One is when we first started this project, we talked about more economics driving it. We need to reduce policing costs, calls for services. Same with EMS. We're estimating that this program, providing housing and wrap around supports for 20 individuals, should save this community between $200,000 and $300,000 a year in policing costs. That's a win in of itself. The other part is that individuals that, it sounds harsh, could have been seen as written off, in other words, they lived on the streets for years, what we're finding is that with supports and life skills training they're starting to become involved in education, they're starting to become involved in the labour market, they have jobs and as part of the program, they do pay rent."
Wall said the supportive housing project is all about getting people back on their feet.
"Will it work for everyone? No. We have individuals in our community that do need support for the rest of their lives and that's okay. But the alternative shouldn't be to survive on the streets and then succumb to the elements."
He added, "Our sight should be on we need to develop more housing in the community… when you look at what the community is spending on lights and sirens, that could be supporting really important community infrastructure like a new recreation centre, a pool, those are the alternatives."
"I'm a big believer that when it comes to truth and reconciliation, the action part of that can happen here in Sioux Lookout," Wall concluded.